IN AN attempt to meet their clean energy commitment under the climate pact finalized in France in December 2015, the European Union pledged to reduce its climate pollution by 40 percent by 2030.
This seemingly great news took a seriously wrong turn as the EU shifted to wood as its renewable of choice and began subsidizing wood pellet biomass production.
However, European forests, protected by stringent environmental regulations, are off limits. This means that subsidy-hungry energy companies are increasingly targeting the Southern United States, where current and planned industry expansion poses an unprecedented new threat to hardwood forests throughout the South.
Forests from Virginia to Louisiana are being increasingly logged and converted to pine plantations, including logging of wetlands/hardwoods and whole trees. This threatens system biodiversity; moreover, renewable energy doesn't necessarily mean clean energy.
The industry would have you believe it operates sustainably, but photographs of clearcutting operations prove otherwise. Plus, research shows that burning trees as fuel in power plants is actually heating the atmosphere more quickly than coal.
The U.S. Clean Power Plan (CPP) allows each state to define which resources it will use to meet the federal goals set forth within the plan—and to qualify for state and federal subsidies.
Including wood pellets as a "qualified, clean" resource would mean embracing a fuel source that's been identified as worse than coal in terms of its CO2 emissions.
This has a tremendous impact on Georgia residents. Covering around 24.8 million acres—roughly two-thirds of the state—our oxygen-producing forests are a powerful resource in the fight against global warming, a fight we must win.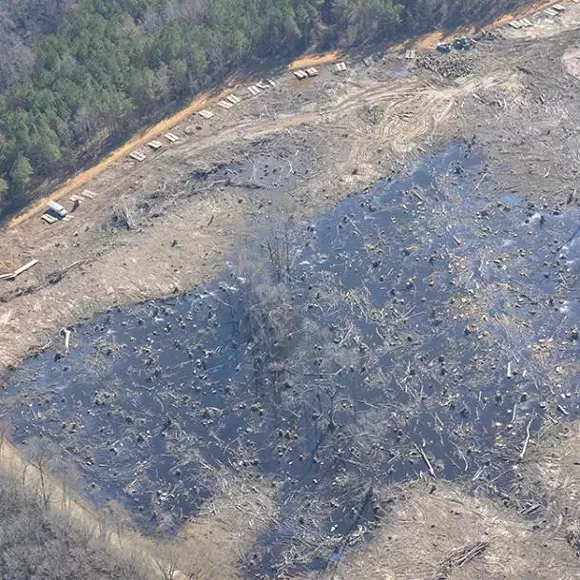 Unfortunately, with the third-highest number of acres of bottomland hardwood forest in the Southeast, Georgia's forests are directly in the crosshairs of an industry intent on cashing in on a new "green" gold rush.
"Because only 9% of Georgia timberland is owned by the public, with 25% being owned by corporate interests, regulation of the emerging biofuels industry is problematic," notes Emily Zucchino of the Dogwood Alliance, a nonprofit organization working to ensure that forest industries practice sustainable harvesting.
It's no surprise that Georgia is one of the top three states being targeted for expansion by the industry. We already have one of the highest amount of wood pellet production facilities in the South, and there are at least seven new production facilities being planned.
Most current biomass production relies on pine from privately-owned plantations, but if Georgia designates wood pellets as a "qualifying" renewable resource for the CPP, the pressure to convert our few remaining natural and semi-natural forests will be overwhelming. According to Zucchino, "The woody wetlands of Georgia are incredibly vulnerable given that 90% of the land is unprotected."
That's the risk we are facing statewide, but what does it mean for the Savannah area? Just take a look around. From Ebenezer Creek to Pooler to Guyton, it's hard to find a cypress swamp, wetland or hardwood forest that hasn't been impacted. Anyone driving west on I-16 to Macon can hardly help but notice long stretches of clear cut areas not-so-cleverly disguised by the rather cynically-named "beauty strips."
The damage isn't merely aesthetic. Our forests provide shelter to many species found nowhere else. Turning essential habitat into wood pellets undermines species diversity, and an intact bottomland habitat with mature trees is crucial to conservation efforts. According to Ducks Unlimited, the Southeast hosts at least half of the waterfowl on the Atlantic Flyway during the winter months.
Regional wetlands provide crucial year-round habitat for a multitude of species, while bottomland forests of coastal Georgia shelter songbirds and migratory Sandhill cranes. Coastal wetlands, floodplain forests, and freshwater marshes, as well as coastal bays and estuaries, are at risk.
Left standing, these forests have tremendous economic benefit. In addition to absorbing CO2 and protecting essential wildlife habitats, they have substantial tourism value. Clear cutting them for wood pellets means they've gone forever, and adding in subsidies, minimal job creation, health impacts, and a decrease in quality of life for communities hosting the production facilities, it becomes clear that this is neither a green nor a sustainable industry.
These issues raise grave concerns about the wood pellet biomass industry and particularly the use of taxpayer funds to subsidize it. Last year, Savannah was one of the first cities to sign the Compact of Mayors, a historic agreement by America's leading cities to actively address climate disruption. As the city's Sustainability Department prepares to release the results of its sustainability assessment, the current City Council has an opportunity to please fiscal conservatives while strengthening Savannah's environmental leadership position.
A resolution urging the state of Georgia to join Savannah in banning any use of tax payer dollars to subsidize the wood pellet biofuels industry would do just that.
Urge the City Council to enact the proposed subsidy ban using the petition available on the Our Forests Aren't Fuels Facebook page: www.facebook.com/dogwoodalliancesavannah.
For more info visit:
cs