The Turkey Callers ***
What do you get when you mix two fingers of local houserockin' garage-blues band extraordinaire Bottles & Cans (singer/guitarist Ray Lundy and bassist Mike Walker) with the preternaturally grizzled outlaw country warbler Tony "Whiskey Dick" Beasley and punk-schooled pedal steel guitarist Igor Fiksman? You get this hoary roots-rock and old-school C&W combo that pops up sporadically whenever the busy schedules of all involved converge.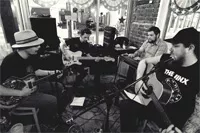 With close to three hours worth of twangy, tried and true covers and like-minded originals, this band exemplifies the kind of interesting musical cross-pollination that's becoming increasingly common in our downtown scene. Walker (who's also known for stints in such esteemed local projects as GAM and BlackwÜrm) says the band hopes to actually roast a whole pig in the alley behind this bar (!) and serve it up gratis to the audience. Bring a bib. Listen & Learn: myspace.com/bottlescanssav, myspace.com/thewhiskeydick. $5 cover. Sat., 11 pm, The Jinx.
Anitra Opera Diva
It's not often that someone who bills themselves as an operatic Diva gives a half-hour recital in a small bar known primarily for booking fledgling metal and indie-rock groups, yet that's just what this midnight show promises. Anitra Warren's resume includes a stint as principal dancer with New York's Harkness Ballet Co. and the Geneva Ballet, plus roles in Australian stage productions and a decade-and-a-half as lead vocalist for the gothy industrial duo Men Smash Atoms. For this "gig," she'll perform select arias from Samson and Delilah, Nessun Dorma and Una Fertiva La Grima. It will not be, she insists "for the faint of heart." Listen & Learn: anitraoperadiva.com, myspace.com/mensmashatoms. $10 cover. Sat., midnight, Guitar Bar.
Wagatail Presents: Dead Confederate ***
It's hard to believe this Athens buzz-band used to be known as Redbelly, as anyone who recalls that fairly pedestrian group will likely be amazed they have morphed into an anthemic powerhouse of grunge-smothered psych-twang melodrama. Though their recent debut CD is drawing plenty of knee-jerk comparisons to both Nirvana and My Morning Jacket, these guys sound much more like a Southeastern version of The Catherine Wheel or The Screaming Trees.
------------------------------------
Here's the band's breakthrough national TV debut on Late Night with Conan O'Brien:
------------------------------------
Fellow Athenians Twin Tigers open with a set of Kevin Shields-esque melodic shoegaze buzz. Listen & Learn: myspace.com/deadconfederate, myspace.com/thetwintigers. $8 cover. Wed., Feb. 4, 9 pm, Live Wire Music Hall.
SMF presents: Wynton Marsalis & The Jazz at Lincoln Center Orchestra ***
This intimate show finds the world-famous trumpeter and his 15-piece, all-star band of killer musicians playing the smallest venue on their entire tour as the sole fund-raising event for the 2009 Savannah Music Festival. Their setlist includes "Nursery Song Swing," a "collection of jazz for all generations," plus rarely heard big-band arrangements of Thelonious Monk tunes, and the official debut of a brand-new take on Johnny Mercer's "Blues In The Night" (commissioned specifically for the SMF).
-----------------------------
Here's Marsalis with the JLCO live at the Royal Albert Hall a couple of years back:
-----------------------------
Much of the admission cost is tax-deductible, and those in the highest price ranges also include access to a private cocktail reception with Marsalis and his bandmates immediately afterwards at chi-chi Bull St. eatery Local 11 Ten. Listen & Learn: savannahmusicfestival.org. $65 - $250. Thurs., 7 pm, Lucas Theatre.
Monroe Crossing
Known as "Minnesota's Bluegrass Ambassadors," this prolific acoustic quintet (boasting a singing fiddler named Female Vocalist of the Year by the Minnesota Bluegrass & Old-Time Music Assn.) has released six indie CDs in their first five years together. They're also the hosts of BluegrassForum.com and The St Croix Valley Bluegrass Festival. Their sound draws on traditional icons like Bill Monroe and Jimmy Martin, but they also cite Etta James and The Temptations as key influences, saying that's what the "crossing" part of their name signifies: blending American soul with the fabled drive of bluegrass. Listen & Learn: myspace.com/monroecrossing. $20 adv. tix at randywoodguitars.com or 748-1930. Fri., 7:30 pm, Randy Wood's Concert Hall (1304 E. Hwy 80, Bloomingdale) - ALL-AGES.