AFTER A year full of challenges, erotic artist Tatiana von Tauber was having trouble creating the sequel to 2015's "Art Porn" and 2017's "Back It Up."
"Rather than try to create a show, I decided I'll just paint," says von Tauber, who also owns the Studio School on Bull Street. "I'll paint 15 paintings and take a look and see what I've done, and then I'll make a decision. Six months went by, and I think I painted three paintings. There was no cohesion to it. Ultimately, I ended up with ten or 12 paintings and I was looking for the common denominator, and I realized: it's all women. Normally I do couples, but I only had one male painting. He ended up being the player."
"Players in Pleasantville," on display at the Studio School from Feb. 16 to 23, follows one central male, the player, and the women in his circle.
"It wasn't really my intention," von Tauber says of her decision to paint women. "It just happened. The way I paint is intuitive, and I think this show is just more personal. I think we've all met players, we've all been played, and some of us have played others—it happens. It was a reflection of some closure for my own personal life. I was trying to paint men, but I was just kind of over it. I ended up painting women in more sensual ways because I'm tired of the objectified porn as well. I spent so much time looking at the porn, I got a little tired of it."
While von Tauber has painted porn imagery in the past, the body of work in "Players in Pleasantville" is much more scaled down than previous work.
"There are some pieces that are very provocative," she says. "But people see the word 'erotic' and make that judgment. You have to find a way to make it approachable."
Approachability is important to demystifying erotic art like von Tauber is creating.
"It's about opening people's minds, not so much like, 'Hey, here's some sexual content in your face,' but more to look at it from a different perspective," she says. "Really, people's judgment on this kind of work is their own shame. You can tell a lot by the way a person reacts to the paintings. At the first show I did, there'd be mostly women who came in and really quickly run through and then run out. They don't want to see it.
"I get the conservative nature of people, and I respect that. We're all different. But I don't want to be shunned by a word that shames someone else. My work is beautiful and it speaks to people and it's respectful to women, and I think we need more of that. We need more women making art like me."
As von Tauber explains, there are three types of imagery: sensual, erotic, and pornographic.
"There are fine lines, and I think that a lot of people can handle the implied because it's sexy," says von Tauber, "but as soon as it turns into pornographic, they're not into it. This body of work is really more sensual, but I want them to see the eroticism in it."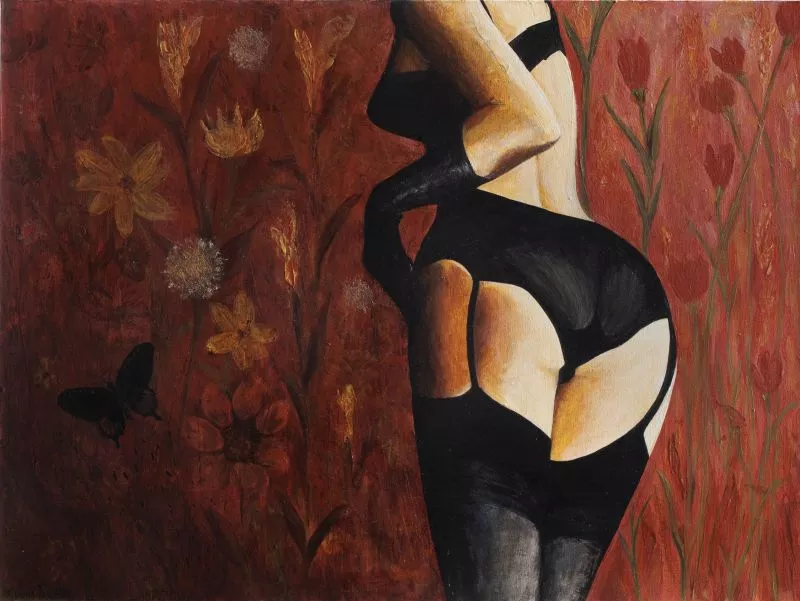 Of course, the biggest criticism lobbied at erotic art is the old "think of the children" bit.
"Everyone's trying to save the children, but I went through the kid stage, both as a child and as a parent," says von Tauber. "I'm 47. I would like an adult world. There has to be some place I can go and feel safe as an adult who happens to enjoy this kind of world or topic without feeling like I should ban myself."
She's carving out that space with exhibitions like "Players in Pleasantville" and with her newsletter, Savannah Love Talk.
Also available online at savannahlovetalk.com, the newsletter was created as promotion for the show, but von Tauber hopes to keep it going.
"People need it and they want it and nobody is giving it to them in a way that's approachable," she says. "That's the key. That's what I've learned. I've got to take out the word 'porn.' It scares people. If you want to reach them, you have to speak to them in a language they're comfortable in."
Savannah Love Talk is a fun, flirty newsletter that feels like talking to a sexually literate friend.
"It's about giving them an education," she says. "I was trying to think of content that was really basic but fun. It's important to know; it's intelligent stuff to make people think. Sexual education is so important for people to make good choices."
Even as she helps create that safe space for sensual art to thrive, von Tauber's freedom to express herself is most important.
"Ultimately, the paintings represent narratives of my future as they explain my past and keep me balanced, focused and happy in the present," explains von Tauber. "That has been the ultimate realization during this show's development: the more I paint eroticism, the more I discover a world where I can understand myself, men, relationships and human nature, and dig deeper into the mysterious side of us that only emerges from our sexual selves as it exists nowhere else."
cs