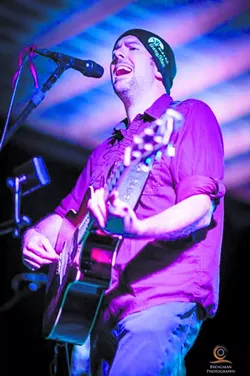 TWO of Savannah's premiere bands unite for a great cause at Coach's, so gather the whole family and get your tickets early for a night of rock 'n' roll, good food, good drinks, and goodwill.
Thomas Claxton and The Myth hit the stage with some fresh awards—the local singer-songwriter came home from Hollywood last month with three Indie Music Channel Awards in tow. Out of his seven Indie Music Channel Award nominations, Claxton earned Best Rock Artist, Best Alternative Artist for the new song "Maybe I'm Crazy" off his upcoming album Age of Propaganda, and Best Rock Recording for the song "I Didn't Ask For This." Indie Music Channel is a website that allows artists to share their work, get noticed, promote, and network.
The band will play a collection of original and cover material at their Coach's gig.
Savannah three-piece The Magic Rocks will open the night with an array of classic and alternative cover songs.
A portion of the evening's proceeds will go toward the cause You Gotta Believe In Liam. The community effort will help 22-year-old Liam Budgell, who was born with kidney reflex disease, receive a kidney transplant. The young Savannahian lost one kidney at birth and is currently in serious kidney failure. While several friends have volunteered to be screened as potential donors, the medical bills are overwhelming for the family; all funds raised will be placed in trust with the National Foundation of Transplants and will cover his care and eventual transplant. The group hopes to raise $60,000 over the next 12 months.
Pre-order your tickets for the big event online, or pick them up in person at Coach's Corner.
Saturday, June 24, 7 p.m., $15 in advance, $20 at the door, all-ages