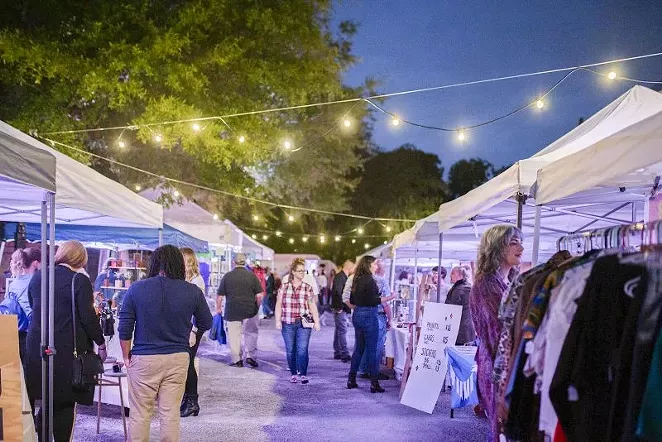 RIGHT now, if things were normal, we'd be in the midst of an incredible art season.
The end of the semester for art students at all three colleges means BFA and MFA exhibitions galore. For the last few months of May, the calendars of art galleries are full to the brim with exhibitions of all kinds.
Plus, the weather is that perfect temperature before the sweaty, sweltering months of June through September, so art markets and outdoor events abound.
I love this time of year, when my calendar is full to the brim and I sandwich art openings between concerts and parties and all the things that make it feel like summer. By the time we hit Memorial Day, my planner doesn't have much breathing room.
First Fridays were the most exciting to plan; I'd start at the river and move down towards Starland, arranging my schedule meticulously so I could hit the most stops.
Now, writing about that feels like a painful reminder of what we've lost this year. College seniors are taking their exhibitions online, hosting Q&A sessions and walk-throughs on Instagram Live. Large gatherings are on hiatus indefinitely, so art markets have been moved to fall or canceled altogether.
For me, the last art exhibition I attended was José Ray's opening at the Grand Bohemian Gallery on March 12, which is solidly two months behind us. I showed up towards the end, yet the party was still in full swing, but in a different way.
We approached each other with apprehension, not the usual hug or handshake. I think I remember bumping elbows, literally, with Stacie Albano and Danielle Hughes.
When I got back to my car, I slathered myself in hand sanitizer and obsessively swallowed to check my throat for any hints of illness. (Fortunately, there were none.)
Of course, everything changed after that. Most of us have been relegated to our homes, staying home as often as possible and socially distancing when we're out in public. It's an odd feeling to be nearing the month of June without having done any of the typical end-of-May things.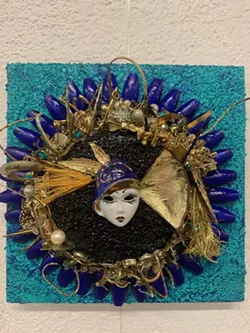 I'm luckier than many: I was able to participate in Monica Cioppettini's MFA exhibition, "Semi-Precious" at Cork House Gallery, this past weekend when we did a Q&A session on Instagram Live. As she led me down the stairs into the gallery, Monica said, "I guess you're one of the first people to see the show in person!" It had been up for a week at that point.
Inside, her amazing body of work for her senior show was on display for approximately five people. Like so many other artists, Monica has done a fantastic job of making the necessary pivot to social media to show her work. But Monica's work is best appreciated up close, which is literally not possible through a screen.
Perhaps that's why everyone is feeling a little off right now: we're trying to foster a sense of normalcy through Instagram interaction and Zoom calls. I think it worked for a while, but now, we're all getting a little restless. The return to normalcy is looking less likely. I know we're all sick of this phrase, but a "new normal" is obvious.
As I wrote a few weeks ago, in my feature on Roots Up Gallery's closing, the art world could look a lot different on the other side of this. Some galleries that close for the pandemic may never reopen again, or may look totally different than they did before.
Without rentals, galleries are short on money and need community support to help stay afloat. Sulfur Studios recently put out an ask, and I'm sure that other galleries will follow suit in the coming weeks.
This is an uncertain time for a lot of artists, most of whom don't qualify for unemployment or other benefits. Instead, they're relying on online art sales and coming up with other ways to sustain themselves.
If you've ever wanted to support an artist, now would be the time to do it. I realize that money is tight for all of us right now, but if you're financially able to make a purchase, it would make an artist's day and help keep them doing what they love.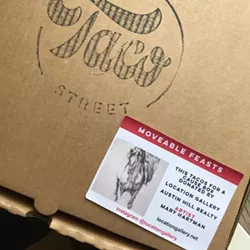 Location Gallery has made it easy to support local artists with its Moveable Feast initiative, which turns art sales into taco boxes for local healthcare workers. Initiatives like that help justify a purchase if you're on the financial fence, and it comes with the bonus of knowing you helped others.
Artists are also not working right now, so commissioning them for a piece could be a fun way to get a piece you want while also helping them flex their creative muscle so it doesn't atrophy.
If you're not able to buy a piece of art right now, there are plenty of other ways to support your favorite artists. Shout them out on social media, visit their website, or send them a text if you know them personally.
It's hard to keep promoting yourself, especially right now, so help lighten their load by promoting them yourself.
This has been repeated a lot lately, but for good reason: remember that art is what's getting you through this time, whether it's TV or books or visual art. Take a moment to support the artists you love in your life.
(While I'm up here on my soapbox, I ask you all to be kind. This is a tough time for all of us. The pandemic is changing the way we live and work, and there's just no need for us to act ugly to each other. I've heard some rumors of bad behavior in the art scene, even now, and it's completely unnecessary. Please, please be kind.)
Like it or not, this is our new normal. We can make the best of it by remembering how much we love our artists and art community.
Who knows where we'll be come next May?
CS