WHEN THE Georgia Craft Brewers Guild was founded in 2010 their stated goal was to promote and protect craft breweries in Georgia. There is no doubt that the Georgia Craft Brewers Guild has done some amazing work over the past few years.
While there were some ups and downs over those few years, Georgia now has some of the most craft beer-friendly legislation in the South. Not too long ago Georgia was difficult place to open a brewery. Now breweries can sell direct to customers, taprooms and brew houses are expanding, and we have the most breweries in the state since before Prohibition.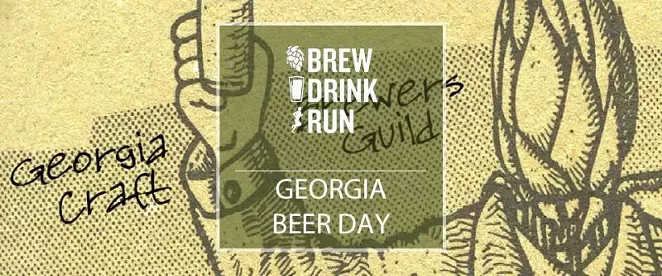 The Georgia Craft Brewers Guild spearheaded the efforts behind all this alcohol legislation and deserves the lion's share of credit for getting it passed.
To assist the Georgia Craft Brewers Guild and to help raise money to back their efforts Georgia Beer Day was established. The idea behind Georgia Beer Day is simple: Georgia breweries hold special events with a cut of sales going to the Guild to support their good work.
We, the craft beer consumer, get to show our appreciation for the Guild and our local breweries by showing up, spending some money while having a good time and enjoying the fruits of their labors.
You might think that much of the Guild's work is done but there is always more work to do, especially as growth in the industry means more active breweries in the state.
Now that Georgia craft beer and breweries are on level footing with our neighboring states, more than ever the Guild will need to support and, perhaps more importantly, promote Georgia beer.
This year Georgia Beer Day falls on January 27. If you want to support the Georgia Craft Brewers Guild's efforts while supporting our local breweries, there are several events going on this Georgia Beer Day that you can attend.
Coastal Empire Brewing Co.: Love beer? Love oysters? On January 27 you should be at Coastal Empire. Coastal is holding an oyster roast from 4-6 p.m. (or until they run out of oysters). Coastal has 16 taps so you'll have plenty of beer choices. They will have all of their year round beer available, their seasons, David Loves Jam Bands IPA and Keller's Milk Stout as well as a few taproom-only releases. A cut of all taproom sales goes to the Georgia Craft Brewer's Guild. They will also be taking donations that will be passed on to the Guild. Attendance is free but it is age 21 and up.
Service Brewing Company: To celebrate the Georgia Craft Brewers Guild Service is throwing an event with food, music and, of course beer. They will be releasing the first of their new "Brewers Release" series. These are beers first brewed I their under their R&D program but now released in larger, though limited batches and distributed in 12oz cans, which thanks to the Brewers Guild you will be able to buy on site. This inaugural Brewers Release is a Belgian quad brewed with mission figs, raisins, dates and fennel seed. Additionally, they will have several special releases on tap including TEA IPA brewed in collaboration with ASI Yaupon Wellness Company and FR3SH Fruited Pale Ale, a 6.17%ABV pale ale brewed in collaboration with Husk Restaurant. A portion of all beer sales will go to the Brewers Guild.
Service has invited Big Bon Pizza to serve up food and City Hotel will be providing the music. The party runs from noon-4 p.m.. 21 and up.
Southbound Brewing Company: Southbound is playing this years Georgia Beer Day a little differently by celebrating a little early. Southbound's event is taking place on the evening of January 26 and is paired with the release of their newest beer, Mountain Jam Southern Lager.
The Chazito's Latin Cuisine foodtruck will be on hand to serve up food to pair with your beer. The Mountain Jam and Georgia Beer Day pre-party runs from 5:30-9 p.m. January 26. A portion of all pint sales goes to the Georgia Brewer's Guild. The party is 21 and up.
So there is your weekend. Start the weekend at Southbound to taste their latest release. Have a rest then head to Service on Saturday for some music, pizza and another new beer. After Service head to Coastal for some oysters and beer.
As always drink responsibly, have a ride and be generous. All of these events can happen because of the Georgia Craft Brewers Guild work over the last few years.
cs