IF YOU made it through last week without punching a wall or dissolving into tears in the grocery store while purchasing a gallon of ice cream exclusively for personal consumption, congratulations. You're either an emotional ninja or in a coma.
The rest of us remain one bad news bite away from hurling ourselves naked into the Forsyth fountain with our hair on fire after the massacre in Vegas and the sudden loss of blue-jeaned deity Tom Petty, plus whatever next horrible thing may have happened between this writing and print time.
This year's continuing cavalcade of awful has made it near impossible to continue "business as usual" as we await the next blow. Though most Americans have not been directly hit by hurricanes or gunfire, we seem to be experiencing a kind of collective armchair trauma as we witness the suffering on our screens.
The paranoia is also ratcheting: Yesterday I saw a cluster of dudes in khakis and white shirts loitering in the front of the post office and almost ducked for cover until I overheard them discussing chicken fingers and realized they were just some bro bankers deciding where to have lunch.
The sliver of silver lining of these trying times is that they remind us to do more for others, squeeze our loved ones tighter and quit putting off the good stuff. Nobody leaves our house without a kiss anymore, even if they're just going to get the ice cream out of the car, and I went ahead and bought nosebleed seats to Willie Nelson at the Civic Center on Oct. 20 because how much longer is that guy gonna be around?
Perhaps the most promising fallout of 2017's mushroom cloud of chaos is the conscious cultivation of civil discourse in the face of an unraveling social compact.
While social media can galvanize momentum around a cause, I would rather wade into the marsh in my underpants than venture into any debate on Facebook or Twitter, where opinions aren't so much shared as hurled like feces flung around by angry orangutans.
Those mile-long threads never seem to lead anywhere for me, and I would much rather have more of society's difficult conversations in person, but only if there are ground rules and snacks.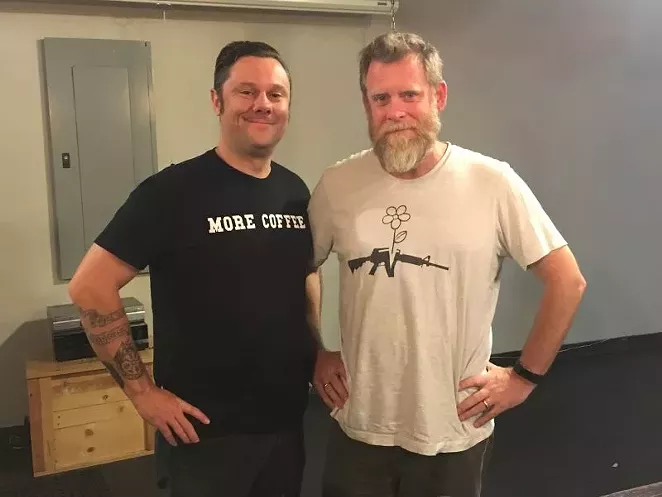 That's the ideology behind Common Grounds, the regular Wednesday night roundtable discussion at the Foundery Coffee Pub. Hosted by two of Savannah's coolest clergy, the reverends Michael Chaney and Kevin Veitinger, the group offers a safe, sane place to practice exploring politics, poverty, sex, violence, religion, race and other touchy topics while respectfully listening to other people's points of view (as opposed to formulating your next clever response while someone else is talking.)
"We welcome everybody's perspective, as long as they follow the guidelines," explains Padre Chaney of the simple checklist that asks participants to refrain from generalizing statements and attacking others. "Basically, don't be a jerk."
If you're allergic to religious authority, let it be known that the discussions are protectively secular, and anyway, neither of these righteous dudes is the hellfire and damnation type: Methodist Rev Kev is an old school punk rocker, Padre Chaney's an Episcopalian Deadhead; social justice, inclusion and egalitarianism are their preaching jams.
While their collars might look exactly the same to this nature-worshipping Jewess, these brothers of the cloth have put their theological differences aside to pair up as soulful crossing guards at the intersection of "Thoughts & Prayers" and "Effort & Change."
"'Thoughts and prayers' remind me to engage with other people with respect," says the padre of the recent backlash against the phrase that's come to symbolize empty platitudes. "But it doesn't mean anything if it doesn't lead to action."
After we've signed the petitions and called our congressfolk (as if Buddy Carter is ever going to forswear his allegiance to the NRA, please,) many of us tenderhearts have been left without any sense of what to do next. After days of ducking the malevolent maelstrom on social media, I made my way over to the Foundery last Wednesday to check out Common Grounds' latest conversation starter, "Make It Stop: Gun Violence."
About 15 people were gathered at the back table right on time to share their feelings and fears, many of them college students worried about their safety in public spaces and future careers in larger cities.
Some wondered how to reconcile the Second Amendment with sensible regulation, and others argued that any legislation may be too little, too late. While there were several gunowners around the table, the calculated nature of this latest mass shooting seemed to stump the logic that everyone should arm themselves.
"Even if any of the victims in Vegas were armed, there was no way they could have protected themselves," the man next to me pointed out.
I offered my own not-so-humble opinion, which is that gun control isn't a debate, it's a public health issue. A million and half people have been killed by guns in the last 50 years, and $226 billion a year is spent on mitigating the effects of gun violence. I will never abide that this country has eradicated polio, banned thalidomide and regulated cigarettes, yet allows the personal possession of weapons capable of killing 56 people in 11 minutes as a "right."
I believe we need to shut down gun manfacturing completely, as the 300 million weapons already in circulation—more than one for every man, woman and child—are surely enough to bear.
Someone disagreed politely, and in turn, I managed not to cry or throw coffee at them or call them a nasty name. That felt like progress. And even if an hour of face-to-face polemic won't solve the world's problems, it gave me hope for the future to see younger people comport themselves with compassion and thoughtfulness.
Still, the evening's conclusion was tinged with the hard truth that there are plenty of people more interested in winning the argument than they are in common ground. Many of us are wearily anticipating the next tragedy, so much so that Common Grounds' leaders are waiting to announce next week's topic.
"We're just watching the news," said Rev Kev sadly.
Perhaps one day we will beat the swords into plowshares and the spears into pruning hooks, the AR-15s into laptops for inner city kids and bump stocks into material for public art installations.
Until then, we can learn to cover each other.
cs