SAVANNAH SHAKES was formed last year specifically to revive the spirit of The Bard in Savannah, invoking the success of the days of Shakespeare in the Park performances here which routinely drew thousands to Forsyth Park.
So far things are going swimmingly. Their summer inaugural production, The Taming of the Shrew—updated to the time period immediately following World War II—sold out five of six performances at Muse Arts Warehouse.
"One thing that really worked with us on Shrew was making that poster and using an iconic image of Rosie the Riveter to sort of forewarn people what they were about to see," says Sheila Lynne Bolda, co-founder of Savannah Shakes and director of Shrew. "It really raised interest and really worked well with our production design ideas."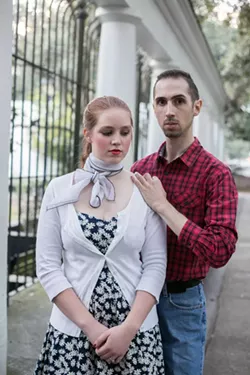 Shrew kicked off an ambitious play cycle from Savannah Shakes which moves in chronological order from that time to the present day. Their newest production, the tragedy Hamlet, is set in 1950s America.
"We're merging '50s iconography in communicating to the audience what they can expect," says Bolda, who also plays Hamlet's mom, Gertrude.
This time around, Savannah Shakes co-founder Christopher Soucy is directing.
"This is sort of a clash of the iconic '50s—as sold to us through TV shows like 'Leave It To Beaver' and 'Father Knows Best'—vs. the beginnings of the Beat Generation," says Soucy.
"We liken Hamlet to Jack Kerouac, sort of a brooding, artistic, emotional person in a sterile environment."
Declaring "the '50s weren't what we were sold," Soucy says "there was turmoil and the emergence of rebellious youth. That's where Rebel Without a Cause and The Wild Ones came from. The counter culture in the '50s was actually very vibrant—it formed what the '60s were to be like."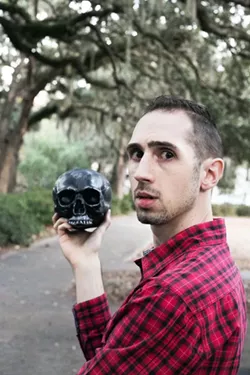 So how do you overlay that template onto the story of Hamlet, the Danish prince dealing with the murder of his father by his father's brother, who goes onto marry Hamlet's widowed mother?
"There's a very interesting duality going on," explains Soucy. "The royal family assumes the purity and innocence of a sterile world."
Seeing Hamlet's mother Gertrude and his murderous uncle Claudius as "Ward and June Cleaver archetypes," Soucy says, "A troublesome emotional force shakes the status quo, and makes that sterile environement suddenly not so safe. This is very much the story of shaking off what we know to be a façade."
One big difference between Shrew and Hamlet is the venue—or venues. This Sunday the show will be at the recently restored Tybee Post Theatre, which has very minimal lighting and sound. Saturday night's show will be in the much larger Trustees Theatre downtown.
Soucy acknowledges both the challenge and the opportunity.
"Absolutely it's been challenging having two very different venues. In the Tybee Post Theatre, there will be very much a trunk show feel. We'll invade the space given our limited time inside of it to prepare."
Saying that feel will be closer to a historic Elizabethan production, he says, "Since we're given to a minimalist mindset anyway, this will be almost like a dream—a suggestion of place and time."
The Trustees show in Savannah, on the other hand, "will really give a sense of the grandeur of the setting and this amazing sense of place. The larger venue will be more like a Shakespeare in the Park sensation, of playing to a vast area."
Savannah Shakes' next show, in 2016, will be Much Ado About Nothing.
"Shakespeare is a necessity," concludes Bolda. "One cast member said, 'I've never read Hamlet before, but I've always wanted to do Shakespeare.' This is such a necessary thing to share."
cs