SAVANNAH NATIVE Tony Arata is best known as writer of the colossal Garth Brooks hit "The Dance."
But that's just one tune from his enormous body of work, including hits for artists such as Patty Loveless, Emmylou Harris, Bonnie Raitt, Trisha Yearwood, Delbert McClinton, Reba McEntire, and many others.
Three decades ago he and his wife Jayme moved from Tybee Island, where Tony grew up, to the "big city" of Nashville to pursue his songwriting dream — a city which has gotten much bigger in the meantime.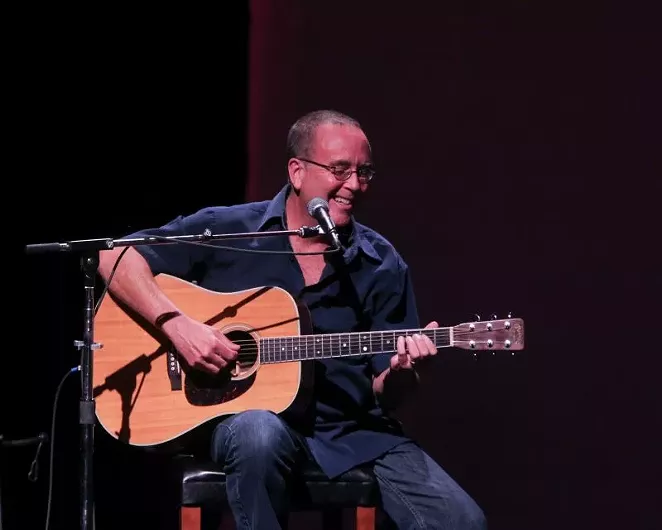 Tony returns to his hometown this weekend for a very special evening with Tim Stafford of the band Blue Highway, a formidable songwriter himself. We spoke to Tony early this week.
Last time we talked was the year before you were inducted into the Nashville Songwriters Hall of Fame in 2012. What's it like being in the company of many of the best songwriters ever to have lived?
Tony Arata: It's extremely humbling. The full weight of it does not escape me at all. To be in the same company as heroes of mine like Hal David, Johnny Mercer, Yip Harberg, people I've admired all my life – I still shake my head sometimes.
Nashville has changed so much since you moved there.
Supposedly 100 people a day move here now. It used to be a big little town, now it's just a big town. I moved to Nashville for no other reason than to write songs. I've been here 32 years now — I guess you could say I'm an honorary Nashvillean (laughs).
Here's how much Nashville has changed: When Jayme and I moved here in 1986, one of the first things we saw was buckets around town to accept donations for the Save The Ryman campaign. They were going to tear down the Ryman to put up a hotel or something. Now of course it's fully restored and one of the most coveted venues in all the world. The list of artists who have played the Ryman transcends country, it's all genres.
Now, Jack White, the Kings Of Leon, all kinds of different artists are in Nashville. The recording facilities and the engineers are all world-class — literally the best of the best have gravitated here. There are so many great musicians here, it's scary.
And you never know who you're playing to. There might be only four people in the bar, but one of them might be able to change your life forever.
Another thing I discovered about people in the Nashville music industry is that the better they are, the nicer they are. There are so many truly good souls here.
Maybe not exactly like L.A., for example?
That's why so many have moved from L.A. to here! There is a deep sense of community in Nashville. Yes, it's competitive — but it's not cutthroat. People here are genuinely happy for other people's success.
Have you played the Ryman Auditorium?
I recently played the Ryman and stood on that stage for the very first time. It was an event called "Georgia on My Mind," with artists all from Georgia. Talk about the gravity of the moment. But it was still all about the songs. We all came to Nashville with the same dream.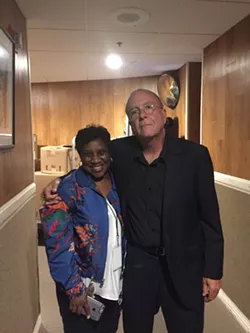 I played a song there that I had written a few years after coming to Nashville, when I was homesick for Savannah. It's called "Otis, Johnny, James, and Joe," about the performers and songwriters from Georgia I loved so much — Otis Redding, Johnny Mercer, James Brown, and Joe South.
Otis especially was always a hero to me. When I walked offstage a young lady came up to me and said, "Thank you so much for that beautiful song about my father."
It was Karla Redding! I was a puddle. When she smiled I was like, "I've seen that smile before." She was so nice.
In pop music there's now a situation where just a handful of people are writing almost all the hits for the major artists. Has something like that developed in country as well?
Whenever I hear something new that I really like, I make a point of finding out who wrote the song. Blake Shelton just released a song called "I Lived It." It's a beautiful song with a beautiful message, and Blake sings it like he really did live it. Both the performance and the song really touched me.
Right away I checked to see who wrote it, and it was some fellas I didn't recognize [Rhett Akins, Ashley Gorley, Ben Hayslip, Ross Copperman]. That's always encouraging.
I like to say there are only 12 notes and 26 letters, so you'd think we'd run out of things to create. But I'm always turning on the radio and hearing something new and thinking, "Why didn't I think of that?"
There is a big difference between songs that are successful and songs that are life-changing. You can't always predict which one will be which, but some songs are just too good to be denied.
People may say they come here to write a number one song. But I think it's more the case that they want to write something that will be remembered long after they're gone.
Tell me about the gig at Randy's with Tim Stafford.
I've never played at Randy's but I've known Randy Wood for years, back from the Savannah days. I came to know his lure in the music industry after I moved to Nashville. He's far more than a luthier — he is truly interested in the type of music that will be played on any instrument that he's working on.
Tim is a monstrous guitar player, and such a great songwriter. I met him in Nashville and then saw his band Blue Highway. It's an honor to share the stage with someone whose work means the world to me. I'll have the best seat in the house!
We'll be playing our own songs, some you know and some that haven't been heard before. We'll swap songs and tell lies (laughs).
cs