Atlanta-based artist Tori Tinsley, Master of Fine Arts and master's degree in Art Therapy, debuts her first solo exhibition, "HUGS" at Laney Contemporary. "HUGS" is a colorful exploration of human connectivity and the role of caregivers. Her work illustrates the power of touch and a lack of physical connection that so many have experienced during the pandemic. "So many people are having to live with little to no physical contact, and it begs the question if we can't physically connect with one another, are there other ways we can show up for and care for each other?" Tinsley noted. The artist's whimsical color choices and gestural paint strokes in her series, "There Will be Sacrifices Along the Way" (completed in May 2020) depict an intimate process of exhaustion, caring, and loss from being the caretaker for her mother, from the perspective of the artist as both a daughter and a mother.
"This [collection] stems originally from my relationship with my mother, who suffered from a degenerative brain disease called FTP. And the work is in response to that. And trying to physically hold onto her while mentally she was slipping away,"— Tori Tinsley, "HUGS"

tweet this
Tinley's playful and energetic two-figure characters called "hugs" express varied interchangeable emotions. A mix of emotions ranging from both happy to worried or saddened. Hugs — and wild donkeys — are featured in settings of imaginatively lush and painterly realms, a place which the artist refers to as 'hug island.' "The dark humor I feel in a lot of the works helps explore the darker side of those experiences. The color helps explore the joys of being in that relationship," Tinsley explained. Predominately on display in the mirror room is a full-dimension donkey sculpture in a Pop palette. Tinley's fascination with donkeys comes from a historic herd of wild donkeys, some of which had a brain disease, which roams on Ossabaw Island. Tinsley's affinity for using donkeys in her work came from a week-long trip to the barrier island off the coast of Savannah.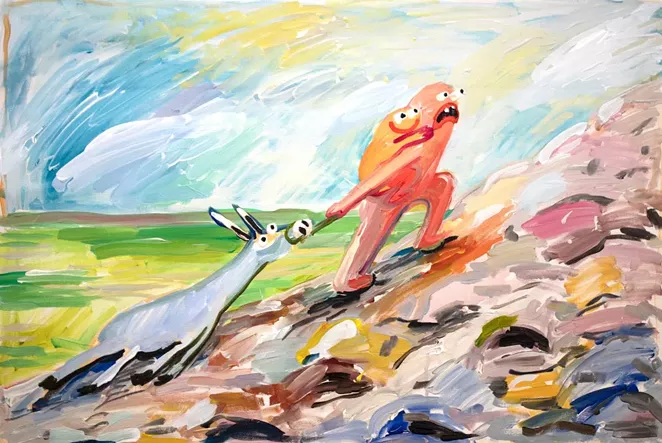 "I feel like I'm not even choosing the color. My paintbrush will just go to the color on my palette that feels right. It's very automatic for me, and I almost feel like I'm a vessel for my paintings. Like I'm not even creating them, they're just flowing through me," artist Tori Tinsley. "HUGS" is on view at Laney Contemporary until Apr 10 is a tribute to the artist's vulnerable journey of the many emotions that accompany caring, living, loving and loss. "HUGS" serves as a gentle reminder from artist Tinsley to "smile through the difficulties." To quote Tinsley: "It can be tough work, having such deep and purposeful connections, but the end results far outweigh the burdens we may temporarily carry. As Desmond Tutu once wrote, 'Nothing is too much trouble for love.'"
Find out more about the exhibition at laneycontemporary.com/exhibitions/toritinsleyhugs. For more about the artist, visit toritinsley.com or find her on Instagram @tori.tinsley.