Tybee Post Theater is host to a bevy of entertainment options as they reemerge from the confines of Covid. Legendary Harry O'Donoghue takes the stage on Aug. 14 to perform traditional Irish Folksongs with the energetic accompaniment of Molly Elizabeth Gibson. Special guests Caitlin Frasure and Vito Gutilla provide melodies meant to transport you to the rainy Irish Coast.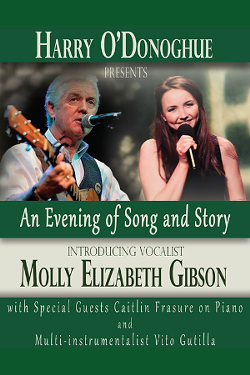 If you meander the streets of Savannah and pass by what used to be Kevin Barry's Irish Pub, you would have more than likely heard the traditional Irish music and tales of Harry O'Donoghue. The Irish-born and Savannah resident keeps the Irish legacy of the city alive with traditional folk music and oral historical storytelling. Pre-pandemic, O'Donoghue traveled the world performing on stages around the country and on the high seas on cruise ships. He is passionate about keeping Irish traditions alive and is keen on showing people the beauty of the Emerald Isle by organizing yearly trips. Since international travel has been on hold for most of us, this family-friendly event will bring the rich, ancient culture to audiences of all ages. Performing alongside O'Donoghue is Savannah native Molly Elizabeth Gibson. Starting out by singing in her kitchen, Gibson's excitement for the Aug. 14 performance is unmistakable as this is her first performance at the Post. "...This will be my first performance at the Tybee Post Theater! Ever since I went to a show there I have been looking forward to the day I could perform on that beautiful stage! It is a charming, intimate, reclaimed historic venue and a lovely setting for all." Her passion for Irish folk music lends to her impressive resumé. Studying under Lisa Kelly, formerly of Celtic Woman, Gibson has performed as lead vocalist for the Celtic Angels March 2021 tour, was the opening act for Damian McGinty of Celtic Thunder, opened for Angie Aparo at Eddie's Attic, and has performed at Smith's Olde Bar. She released her first track and music video, a lullaby titled "Lavender's Blue" in the summer of 2020. Shortly after, she released her Christmas EP, "Merry Christmas." When asked what she likes about performing in Savannah, Gibson gleams with pride: "It is just so wonderful to be performing for my beloved hometown. I am so happy to be performing here with Savannah's very own Irish singer/songwriter/storyteller, Harry O'Donoghue, as he introduces me to our community." The breezy summer air will be filled with song, stories, and laughter as O'Donoghue, Gibson, and musical guests Caitlin Frasure and Vita Gutilla take the stage. Caitlin Frasure is a talented pianist with a servant leader's heart. As Principal Accompanist and Production Coordinator at the Savannah Children's Choir, Frasure has toured her talents from Indianapolis to Italy and beyond. She co-founded "Ascending" in 2015 with violinist Tricia Bonner and released the self-titled album "Ascending", composed of thirteen commissions. She relocated to Savannah in 2019 and has delved into the music community. Her performances lend a cosmopolitan flavor to her compositions. Vito Gutilla is a multi-instrumentalist with roots in the Texas country scene which evolved to him playing the Irish fiddle in different bands around Los Angeles. His talented finger-picking provides traditional context to the oral histories and melodies of Irish tradition. This talented team of vocalists, storytellers, and dynamic artists on stage is guaranteed to captivate and hold the audience through touching and sometimes hilarious stories along with folk songs that play your heartstrings.
Harry O'Donoghue - An Evening of Song and Story Introducing Vocalist Molly Elizabeth Gibson is premiering at Tybee Post Theater on Aug 14 at 8:00 p.m. To purchase tickets, visit tybeeposttheater.showare.com.