A sports section in Connect Savannah?
Well, maybe not quite a section. But a sports column has arrived at Connect and I couldn't be more thrilled, and humbled, to be the one asked to write it. I am grateful to the editors and staff at CS, namely publisher Erica Baskin and content director Christopher Sweat, for allowing me to bring the many sports stories this city has to offer to the readers of this publication.
This is the first, but each week in the Wednesday print editions of Connect Savannah and online at connectsavannah.com, I'll be adding regional and local sports stories into the fold of this arts and entertainment publication.
I could use a few hundred carefully crafted words telling you how athletes are actually artists (i.e. the Rembrandt pitcher) or that they are in some form or another, entertainers more than anything.
I could do that.
A few clever turns of phrase and we'd be off and rolling.
No need for that.
The simple fact is that sports in the South, and specifically in Savannah, have a special place in the hearts and minds of many.
I can confirm this from my time previously writing a weekly sports column in this city for two years.
People here care about their sports.
They care about the athletes that come from here. They care about the coaches. They care about the people, and the history those people have created and are creating.
It is my hope that this column will be a place for the discussion of local and regional sports topics of interest each week: high schools, colleges, little leagues and the pros.
There is an appetite for it all, I believe.
(Turns out I did spend a few hundred words back there).
Now. To the actual sports column …
What better place to start than high school football? Savannah has produced plenty of high school football talent over the years, as many of the city's best players have gone on to have successful collegiate and professional careers.
Last year, the area's marquee program, Benedictine, brought home a Class 4A state championship with a season to remember.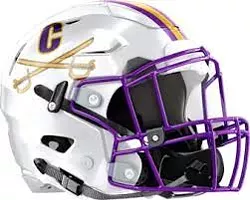 Looking ahead to the 2022 prep football season, another Savannah private school figures to be a championship contender on the gridiron. The Calvary Day Cavaliers have been knocking on the door of a state championship for the last five seasons under head coach Mark Stroud.
Stroud's Cavs were 12-1 last year, and the program has been to three state quarterfinal games and one semifinal over the past five seasons (48-15 record during that time).
This year's Calvary team will be competing in the Georgia High School Association's 3A classification (1A-7A), up two classes from its previous 1A designation. It may not matter who they play, the Cavs are absolutely loaded with college-caliber talent across the roster.
The list of Calvary players with college scholarship offers is a lengthy one. Too lengthy to fully document here, but a few notables include: junior quarterback Jake Merklinger (offers from Michigan State, NC State, Virginia Tech, Louisville, Wake Forest, Cincinnati, among others); sophomore running back Donovan Johnson (Georgia, Florida State, Arkansas, Boston College); sophomore tight end Michael Smith (Kentucky, Georgia Tech, Arkansas); Edward "Doopah" Coleman (Florida State, Coastal Carolina, Arkansas); senior linebacker Troy Ford Jr. (committed to UCF).
There are more, too. But you get the point. Calvary has talent worth getting excited about if you're a local football fan. They'll be a must-watch this Fall.
The Calvary program got another boost this week with the start of newly hired offensive coordinator and former Savannah State University interim head coach Russell DeMasi.
DeMasi, a graduate and former quarterback at Savannah Christian and Georgia Southern University, was in the running for the full time SSU head coaching gig before the school (inexplicably) chose Aaron Kelton over him last month. The issues at Savannah State and the football coaching search is a soap-opera story worthy of its own column.
He exited a toxic, tumultuous situation at Savannah State and entered into a stable, successful and solid program on 63rd Street and Waters Ave. at Calvary Day.
When I talked with DeMasi last week about his new gig starting May 9, he cunningly avoided lobbing any criticisms towards SSU, but he suggested that athletics weren't being prioritized at State.
See if you can't read between these lines ...
"The thing about Calvary, and the school and the athletics at Calvary … it's very clear they care about making the athletic program as good as it could possibly be," Demasi said on a phone call. "That was the one thing I wanted, was to be at a place and in a program where they put student-athletes at the forefront of the school.
"It's not giving the athletes an easier way or giving them concessions in the classroom, but it's about giving the athletics program what it needs in order to be successful."
He'll serve as the director of the Calvary Athletic Development Academy, a new program designed to give the school's student-athletes personal, targeted training during free periods within school hours. The Savannah native says he is excited, and if you're a Calvary supporter, you should be too.
Follow Travis Jaudon on Twitter/Instagram @JaudonSports. Email him at travisLjaudon@gmail.com. Listen to him talk sports weekly on the Hot Grits Podcast.