The UGA Marine Extension and Georgia Sea Grant launched their Trawl to Trash program in August 2021. The year-long program seeks to educate the public on the adverse effects of man-made debris, such as plastic, on marine environments by providing stewardship and outreach activities.
According to their website, Marine Extension and Georgia Sea Grant launched the Trawl to Trash program, which engages the public in outreach and stewardship activities that educate communities about the impacts of marine debris and encourage use of the recycled trawl bags to collect and remove debris from Georgia's waterways.
A major component of the program has commercial shrimpers from Georgia and South Carolina create Trawl to Trash bags out of recycled shrimp nets.
These sturdy bags can be used to collect and remove litter from our waterways and beaches.
Dodie Sanders, an educator for the UGA Marine Extension and Georgia Sea Grant explained that the bags are easy to make and that the public also has the opportunity to make their own.
"Shrimpers can construct these bags in no time. We actually are doing some public programs where we get participants to come out trawling with us, we talk about the project and then as a culminating piece it's where they make their own bag," said Sanders.
As part of the program, the public also has the opportunity to attend morning trawls in Wassaw Sound aboard the UGA Marine Education Center and Aquarium's research vessel, the Sea Dawg. Those in attendance will learn how to identify different types of marine life, and learn how to make their own trawl to trash bags.
Registration (gacoast.uga.edu) for the morning trawl aboard the Sea Dawg is open. The cost is $16, and the trawl will be on April 9 from 8 a.m.-11:30 a.m. at the UGA aquarium, 30 Ocean Science Circle.
"We're focusing on marine debris, you know, it's important for these types of programs to really provide unique hands-on inquiry, based learning experiences and stewardship activities that foster the prevention of marine debris," said Sanders.
From 2020-2021, the marine extension received COVID funding and piloted the Trawl to Trash program specifically with Georgia shrimpers. The pilot program was a success, and the marine extension filed a proposal to the National Sea Grant College Program to expand the program to include shrimpers in South Carolina.
However, as the program began to grow Sanders said that making the program a regional endeavor isn't out of the question.
"I think what we're going to try to do in the future is we will continue to look for funding to support programs like this. I think it would be great if it went more regional to include Florida and North Carolina," said Sanders.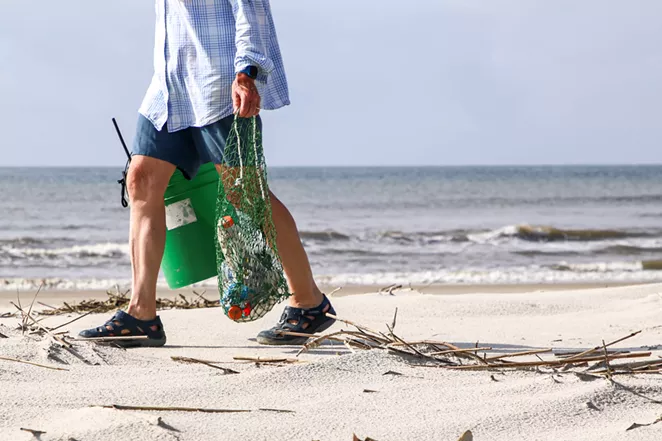 Robert Todd is a fourth-generation commercial fisherman and teacher at McIntosh County Academy. Todd teaches the commercial fishing pathway at the school, and has incorporated the Trawl to Trash program into his curriculum.
"The Trawl to Trash program provided additional hands-on experience and actual professional experience when it came to net mending with my students," said Todd.
Todd's students not only gained valuable skills related to commercial fishing, they were also compensated for their hard work receiving $20 for every bag they made.
Man-made debris that enters our marine environment has detrimental effects on wildlife, and how it adversely impacts the health, safety and economy of humans.
According to a study there are 5.25 trillion pieces of plastic within our oceans, with a staggering 8 million tons of plastic entering our oceans yearly.
How to get involved:
Participate in free Trawl to Trash educational programs that may include trawling on our research vessel, the Sea Dawg, to learning how to construct Trawl to Trash bags. Check out the event calendar at gacoast.uga.edu/events.
Volunteers who want to help reduce marine debris during monthly cleanups are invited to get involved in our Marine Debris Community Science Program. As part of this program, volunteers remove marine debris from local barrier islands, salt marshes and tidal creeks along the Georgia coast. Learn more by contacting Katie Higgins at kt.higgins@uga.edu.
Participants who use the bags during cleanups are encouraged to take photos and share on social media along with the hashtag #Trawl2Trash!