GET YOUR fix of surreal and psychedelic art next weekend at Sulfur Studios.
"Another Trip Into the Void" is an exhibition of surreal and psychedelic art curated by SCAD MA candidate Lindsay Gustafson.
Last year, Gustafson paid a visit to the Meow Wolf's House of Eternal Return in Santa Fe, New Mexico, a 20,000 square foot house full of secret passages and interactive lights. Guests try to figure out the mystery of the Selig family, who disappeared after conducting an experiment in their home.
"It's absolutely insane, going through this house and trying to find out about what happened to this family to get to another dimension," Gustafson raves.
"I was like, 'Okay, my mind has exploded. This is the best place I've ever been.' My friend and I were in there for a good four hours. I was also interested in it because over a hundred different artists worked on it, so I was immediately inspired."
The psychedelic experience at the house served as the inspiration for Gustafson's first curated show.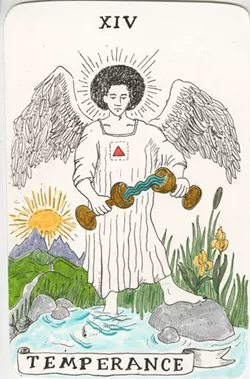 "I got my BA in art history from LSU, and I've always been interested in psychedelic and surreal art, which are definitely my favorite movements," she says.
The artists are Jonathan "Feral opossum" Mayers, Sarah Ward, Sean Michael Self, Stephanie Trujillo, Brian Spadafora, Eliza Woods Harrison, and Gustafson herself. While four of the artists are from Europe, Gustafson has worked with all of them before and felt their work was fitting for the exhibition.
While the art isn't all necessarily trippy or psychedelic, it does all hearken back to a trippy theme: the void.
"I think the art itself is a very weird, cerebral experience," Gustafson explains. "Each artist takes their own unique way of interpreting the void. Every piece is extremely different from one another but it ties back to how we can interpret the idea of this void."
Not only does the artwork celebrate psychedelia, the reception does, too. Gustafson encourages everyone attending the reception July 27 to dress in their best psychedelic regalia since there will be a costume contest with prizes. The official after-party is next door at the Wormhole.
"I used to live in Baton Rouge, and they have this big party and costume contest," Gustafson recalls. "I loved dressing up for it. I was like, 'Okay, this would be super fun for something other than Halloween.'"
cs