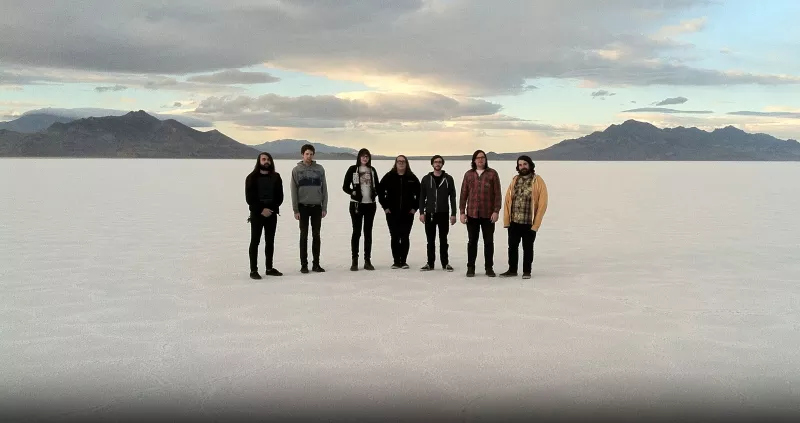 THERE was a moment in 2013 when you could pop in on a terrific all-ages emo or punk show right downtown, right in broad daylight. In the unfortunately fleeting existence of Vinyl Vibe Records, kids would spill into Whitaker Street, cramming into the little shop as displays rattled and the crowd pulsated. One particular Vinyl Vibe show is still fawningly recalled in local circles: a jawdropper of a bill featuring Big Awesome, Crazy Bag Lady, Wet Socks, Pity Sex, Dads, and The World is a Beautiful Place & I Am No Longer Afraid to Die (or TWIABP if you're into the whole brevity thing).
Two years later, Graveface is bringing TWIABP back, this time to a stage that can hold their enormous sound and performance lineup (currently, that's nine-count-'em-nine members).
With the release of 2015's Harmlessness, TWIABP was declared the harbinger of the end of the emo revival; an enveloping, lush, and intelligent LP, Harmlessness is the nexus of emo nostalgia, orchestral renderings, shoegaze, and atmospheric indie rock. It's a stunning achievement, somehow not overwrought in its transfixing excess, and seeing the songs live is guaranteed to be an incredible experience on the Dollhouse stage—particularly with the likes of Superheaven, Rozwell Kid, and Brightside sharing the bill.
We spoke with guitarist/vocalist Derrick Shanholtzer-Dvorak about composing with an ever-changing lineup, TWIABP's literary influences, and the making of what is sure to be one of 2015's most memorable records.
Harmlessness is such an exquisite record. How long had y'all been working on it and writing for it?
On and off for two years. After that record was recorded and done, we got together for rehearsals and we started writing new stuff.
With rotating band members and so many of you, how do you write together? Do you have a core group of songwriters?
We all just sort of set up in a room and let it happen, I guess. Somebody will have a riff or a small idea and we'll build it from there; nobody ever comes in with a full, completed song.
Do you just flesh it out together or is there some kind of direction?
We'll see where it goes. Usually, someone will jump in with an idea, or something will just happen in the moment and we'll go with it. We record all our rehearsals so we can go back through stuff.
I've always loved the term "maximalist" you use to describe TWIABP's sound—is that informed by the instrumentation and sheer volume of players, or by dynamics?
It was kind of a joke; you see bands described as 'minimalist' a lot, and so I was just kind of half-joking; I thought it was an accurate way to describe us: a maximalist indie rock band. And it's getting bigger and better; we're about to go on tour with four guitarists.
What's everyone's musical background like? Is there a lot of common ground there?
Some of us came up in the DIY punk scene or played folk music; [drummer] Steve [Buttery] played in a bunch of really spastic noise rock bands, [bassist] Josh [Cyr] listens to a lot of K-pop. We're all into different things.
What's that like in the guitar section, composing arrangements with folks with different backgrounds and styles?
It's cool that we all have a different lens for what we're trying to accomplish with everyone; it's coming from someone else's different influences. We haven't run out of ideas yet.
How long are those writing rehearsals typically?
They're usually about five or six hours, nothing insane. But I feel like for the past couple of years we never rehearsed old material; we just wrote every time we got together. We just have an archive of unused material right now; we're probably sitting on 20 or so unfinished and unwritten songs.
What was it like recording Harmlessness?
We went to Silver Bullet Studios, which our guitarist Chris Teti works at, and it was 13 hours a day every day for four weeks straight, and we watched Billy Madison every day. It drove [keyboardist/vocalist] Katie [Shanholtzer-Dvorak] crazy! We watched it once a day every day.
Had you recorded there before?
Yeah, we recorded Between Bodies there, and we recorded our song for the split with Tigers Jaw there, and the Destiny 7".
Is it easier working in an environment that your bandmate's involved in?
It made it a lot easier; we slept there for the whole month. It's easier to work with someone you've already been working and playing with for years.
There are a lot of literary references woven into Harmlessness, from mythology to Dylan Thomas; are y'all big readers?
Katie reads a lot, and [guitarist] Ty [Bussey], too. So this record, they wrote most of the lyrics. In the past, it was more like me and [former guitarist/keyboardist/vocalist] Greg [Horbal] and our old vocalist Tom [Diaz] who worked on it all together; that was mostly because no one was writing vocals or lyrics until after the songs were finished, and [vocalist] Dave [Bello] wrote as he went along with it.
Having been in the band so long, is it strange to kind of step back and let others take over songwriting and other duties?
It's kind of weird at first; I wanted to have input or change some parts, then I just got to point where it's like, 'All of this is sick! Do what you want.' It was strange at first, but now I'm fine with it and happy with the results.
It's definitely gotten a good reception.
Yeah, I'm really stoked.
Are you working on anything now, or taking a breather?
We have a ton of releases planned that we want to do. We have a second 7", along with [Long Live] Happy Birthday...that'll be out sometime next year. We have two different collaborative records we're going to work on next year where we collaborate with a band to write an LP together. We're also having an EP of songs that we recorded for Harmlessness that we're going to finish and have out later next year, and some other splits planned.
CS
Graveface Presents: The World is a Beautiful Place and I am No Longer Afraid to Die, Superheaven, Rozwell Kid, Brightside