AS I've said before in this column, when it rains, it pours. The next seven days are a veritable Vinnie's calzone of specialty cinema: overstuffed with all manner of options, expertly crafted and quite worth the indulgence.
First up: fans of classic Hollywood spectacles should be thrilled to see one of the all-time greats of that genre as its creators intended when Turner Classic Movies presents director Vincent Minnelli's beloved 1951 musical comedy "An American in Paris" on Jan. 22 at the AMC Savannah 11 multiplex behind the Savannah Mall. This six-time Oscar winner (including Best Picture) stars Gene Kelly, and features timeless music and lyrics by George and Ira Gershwin. Catching a lovingly restored print of this on the big screen should be a treat. Showtime is 7 p.m.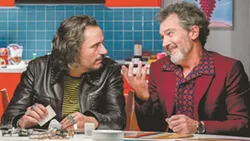 That same night, the Savannah Jewish Educational Alliance on Abercorn St. celebrates the kick-off of one of the most eagerly anticipated annual movie events in our area: the Savannah Jewish Film Festival. This year's installment finds the JEA presenting three brand-new, feature-length motion pictures and three collections of award-winning, recently made short subjects – all of which are focused on or rooted in the Jewish experience and/or Israeli culture.
As in years past, these screenings are also paired with optional meals (lunch or dinner) either before or after the screenings. These meals are prepared under Kosher supervision by noted local chef and caterer Bryan Graves, and two screenings offer complimentary receptions featuring light food and drink (with the option to purchase beer and wine).
Individual tickets to each feature film or collection of shorts can be purchased at the door a few minutes before the screenings, while discounted passes to the entire festival can be charged online (that's also where you'd reserve your dinner or lunch packages, which must be done in advance). For more details on this event, see the separate article elsewhere in this issue.
Jan. 22 also finds the award-winning Psychotronic Film Society continuing its weekly showcase of marginalized or underappreciated feature films from around the world at the Sentient Bean.
That night, the PFS also screens respected Danish director Ole Bornedal's creepy 1994 European thriller "Nightwatch," which he remade via Hollywood in a 1997 English language version starring Ewan MacGregor. If you've seen that version, you should get a real kick out of the initial arthouse smash that inspired it. In spoken Danish and Swedish, with English subtitles. 8 p.m. showtime.
The following Wednesday, Jan. 29, the PFS digs deep into its vaults to continue its latest occasional themed series: mystery screenings of cool documentaries that are so under the radar, most folks are unaware of their existence. Dubbed "The Greatest Documentaries You Never Saw," each installment features a terrific, nonfiction film that's either commercially unavailable or insanely hard to find. However, the exact title of each film –and the subject matter– will not be revealed before showtime.
Here are some clues: This raw, unvarnished look at one of the least-known areas of the South was released to only a handful of theaters in 1979, and marks the directorial debut of a North Carolinian who has himself since gone on to become one of the most respected and idiosyncratic documentarians of his generation.
Heading out to Tybee Island, on Jan. 23, the historic, restored Post Theater offers a one-time-only screening of "Bombshell," the dramatized account of the female Fox News employees who publicly accused and ultimately exposed that network's CEO Roger Ailes of his sexual harassment of almost two dozen female subordinates, leading to his scandalous ouster in 2016.
Made by Jay Roach (director of the "Austin Powers" movies, and producer of "Borat" and "Brüno," among others) and starring Nicole Kidman, Charlize Theron and Margot Robbie, the film has been nominated for scores of awards, and has received mostly positive reviews for its deft handling of an ugly situation. 7 p.m. showtime, with a free beverage (beer, wine or soft drink) included in the admission price.
That same night, the Mars Theatre in nearby Springfield, Ga. continues its lengthy run of the latest reboot of the "Doctor Dolittle" franchise. This time, it's simply called "Dolittle," and it stars Robert Downey, Jr. as the fabled Victorian-era British physician and veterinarian who has the ability to converse with animals. The film has gotten pretty mixed reviews, but audiences (especially young ones) seem to be enjoying the goofy spectacle. Showtimes at 7 p.m. on Jan. 23, 24, 25 and 30, plus 3 p.m. on Jan. 26.
Jan. 23 also marks the start of this year's Mountainfilm on Tour Savannah – a three-day, locally curated version of the respected, Colorado-based Telluride Mountainfilm Festival. For three decades, that event has showcased outstanding films from around the world which dwell on a variety of subjects related to exploring and preserving our environment, as well as to sustainable living.
Savannah audiences have been able to enjoy highlights from each year's winning entries since 2009, when locally-based film lover and community arts supporter Zelda Tenenbaum first arranged for that organization to include our town on its international list of yearly destinations.
These family-friendly, uplifting and inspirational screenings take place at Trustees Theater at 7 p.m. on Jan. 23 through 25, and at 2 p.m. on Jan. 25, and they each include a large number of different titles. Tickets are available to each individual show, as well as discount passes which allow admission to the entire festival. For more details, see the separate feature article elsewhere in this issue.
A few days later, on Jan. 30 at Trustees Theater, the SCAD Cinema Circle screens Sofia Coppola's 2006 historical drama "Marie Antoinette," as part of its "Trensdetters" series, which features films known for their unique sense of fashion.
The film, which stars Kirsten Dunst, Judy Davis, "The" Rip Torn, Asia Argento, Danny Huston, Steve Coogan and others, is centered around the time period leading up to the French Revolution, although it utilizes an incongruous soundtrack based around post-punk, new-wave and electronic dance music. A financial flop at the box office, it remains revered by those in the industry for its craftsmanship and attention to detail. 8 p.m. showtime.
At the Savannah Cultural Arts Center, local film organization CinemaSavannah presents the exclusive local engagement (not counting its sneak preview at the 2019 SCAD Savannah Film Fest) of the latest feature from Spain's master writer-director Pedro Almodóvar. "Pain and Glory" stars that director's longtime collaborator Antonio Banderas as a simulacrum of sorts for the filmmaker himself in what is yet another semi-autobiographical tale from this daring, visionary auteur.
The bittersweet tale of an aging motion picture director wracked with both physical pain and emotional turmoil who falls into a downward spiral of self-loathing and hedonism, it finds Banderas giving an unbelievably nuanced performance. 7 p.m., in Spanish, with English subtitles.
A couple of days later, the Lucas continues its series of "Musical Matinees" with Bob Fosse's loose 1972 adaptation of the Broadway musical drama "Cabaret," starring Liza Minnelli, Joel Grey and Michael ("Logan's Run") York. This debauched 1931 period piece rooted in the tale of a troubled romance is set in the Weimar Republic as Nazism begins to take hold.
A provocative film which ruffled more than a few feathers upon its release (mostly due to the idea that it somehow glorified the whole Third Reich vibe, which is a fairly ridiculous assertion), it was a financial success right out of the gate, and wound up winning a whopping eight Academy Awards.
It still holds the record for the highest number of Oscars given to a film which then did not win Best Picture. However, truth be told, it was only defeated in both that category and the Best Adapted Screenplay by a little film you might have heard of called "The Godfather."
The original camera negative of this film was sadly lost and the highest quality surviving print was severely damaged decades ago, resulting in a somewhat hideous scratch that ran through a full ten minutes of the picture. In 2013, however, a painstaking process digitally covered up the scratch frame-by-frame, by hand. I believe that restored, high-definition version will be the one used for this engagement. 3 p.m.
And finally, on Jan. 28, the Lucas offers a live, high-def simulcast of Shakespeare's best-loved rom-com, "A Midsummer Night's Dream," digitally streamed from a National Theater Company stage performance at Britain's Bridge Theatre in London. As always, SCAD offers these National Theatre Live presentations at a fraction of the ticket cost most venues charge. 7 p.m..
Until next week, see you at the movies, be kind to those around you, and don't forget to turn off that cell phone.
cs
Jim Reed directs the Psychotronic Film Society of Savannah.