If you didn't know better, you would think the royal blue pantsuit worn by SCAD student, Naomi Kinnamon, came straight from the designer racks at Nieman Marcus. However, Kinnamon not only designed and created the outfit, but it's meant to help her—and hopefully others like her—manage the disease she's had since sixth grade.
A native of Pennington, NJ, Kinnamon shares something in common with nearly 1.9 million of her fellow Americans. she has Type 1 diabetes. Instead of letting it slow her down, she has turned her disability into an ability.
"This was my project for my entire senior year. I started in September and the collection was just finished about a week ago. For my senior collection, I designed evening wear that accommodates other young women with Type 1 diabetes," said Kinnamon, a SCAD Fashion senior. "All of my garments have a hidden pouch for an insulin pump."
While the advent of the insulin pump—a computerized device that sends measured amounts of insulin through a catheter and needle—has freed many diabetics from the normal finger pricks and daily shots, it is a cumbersome item to wear on one's body or clothing.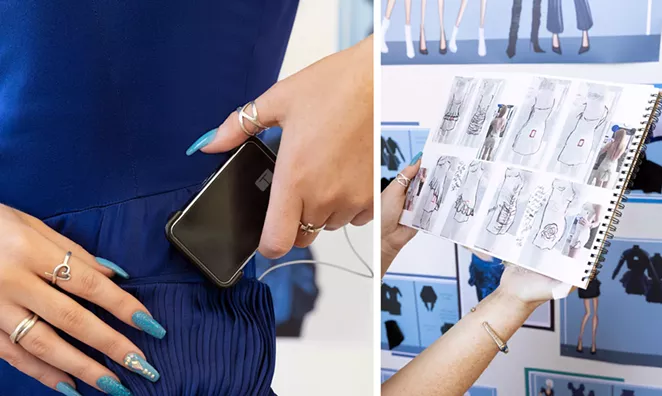 "I was diagnosed in middle school," she said. "As you can imagine, that's a terrible time to be someone different or to have something that makes you stand out. That's why my clothes are for young women because I know this can be a real confidence issue/problem."
Kinnamon said her diagnosis made her quite self-conscious.
"My first year, I'm walking around with this big, bulky insulin pump and everyone is like… 'What the heck is that?' or 'Is that a pager?'" She stopped to laugh heartily. "I mean, how did they even know what a pager was… it was way before our time."
Her humor, confidence, and support from her family helped her through the transition.
"I'm way beyond that now," she said. "I know I am amazing even though I have Type 1 diabetes and nothing holds me back anymore."
Not from life or her fashion design and creation.
Naomi has been sewing since the second grade.
"It's [a skill] passed down through the matriarchs in my family. I made my clothes as a child and I've always been creative, which has been encouraged in my family," she shared.
She started her schooling at community college to figure out her life path.
"I realized I can pursue this passion in a creative field and make money and have a career, so I decided to go to school for fashion and applied to SCAD. I was so thrilled when I got in. It was nice to be down South for a little bit, get away from home, and experience somewhere else."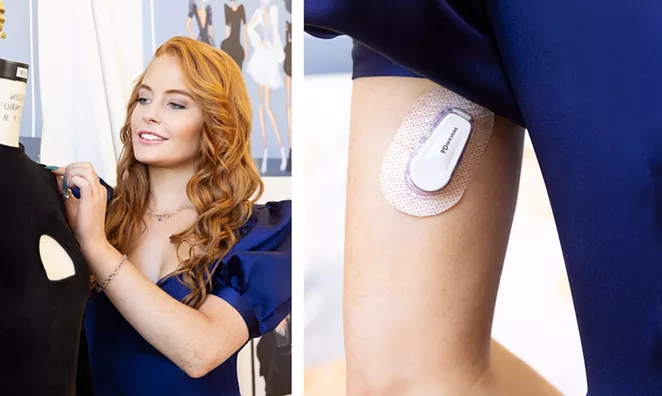 With her senior project: "We had this opportunity to basically design anything we wanted and it was a great opportunity for me to take this idea and run with it. I've always said I don't have clothes that work for me or fit with me… well, why don't I make my own?" she noted.
As someone who has dealt with the issues surrounding diabetes, Kinnamon understood the challenges.
As someone who has experienced uncomfortable clothes most of her life, Kinnamon feels what she's created is cute and stylish, but functional and inclusive.
The young designer has applied for a job in New York City to be working in the fashion industry next year, but she wants to start her own brand.
"This isn't just a project for me," she said. "I've done this with the consideration of making it a future brand because there are millions of people out there who have just not ever been considered in the design process."
"I want to take Type 1 Of A Kind to the next level," she said. "I see these garments as prototypes for the future. I know things will change and my designs will, as well, but I absolutely want to turn this into a brand to accommodate others. I am all about inclusivity and innovative designs that want to problem-solve people's issues. I don't want to be someone who is just making beautiful clothes for the sake of it, rather I want to be doing something with my technical skills where I can help people."
Kinnamon has thought a lot about this, as any burgeoning entrepreneur does.
"I would love to partner with an organization like the Juvenile Diabetes Research Association or others so that a certain amount of the proceeds from my brand can do to a charity doing diabetes research."
She smiled back at her collection.
"This is just the beginning. The possibilities are endless."
Follow Kinnamon on instagram @naomik.designs