The conflict happening between Ukraine and Russia has motivated people in the Savannah community to take action. A few local organizers have come together to host a special fundraising event to benefit those in need in Ukraine. On Thursday, July 14 from 7 to 10 p.m. the group "Savannah Supports Ukraine" will host a silent auction and fundraising gala in partnership with the Collins Quarter at Forsyth Park, which is where the event will take place. All proceeds will benefit Doctors Without Borders, and will also be used to cover costs of transportation for humanitarian aid to Ukraine.
Members of Savannah Supports Ukraine say they are a local coalition of Savannahians, Ukrainians and anyone else who's interested in helping Ukraine during the ongoing conflict. The group operates with a primary goal of expediting security and delivering humanitarian aid in the forms of medical support items, first aid items, hygiene supplies and food to Ukraine. Other goals include raising awareness and fast-tracking Ukrainian refugees to the U.S.
Savannah Supports Ukraine was founded by Savannah transplant Uliana Vladimirovna Gonzalez, who is originally from Ukraine. Gonzalez started the organization's Facebook group on Feb. 28. Shortly thereafter, the group held a rally at City Hall in support of Ukraine and has since grown to nearly 500 members.
"The Savannah Supports Ukraine group is a bright example of how impactful and powerful community can be when it comes together," Gonzalez said.
She anticipates that the fundraising gala will be a productive opportunity to raise funds and bring the community together for a great cause.
"This unique event is meant to bring Ukraine and its legacy closer to Savannahians and to deliver much needed medical and humanitarian aid to Ukrainians standing for their Motherland," she expressed.
Featuring Ukrainian performers, food, and more, the fundraising gala will bring Ukrainian culture, heritage and traditions to the Hostess City. Live performers will include New York-based Ukrainian musicians Fima Chupakhin, a jazz pianist and film composer, and Lesya Verba, a music artist and bandura player. There will be items available for bids in a silent auction, as well as raffles to raise funds. Guests are encouraged to show their support by wearing blue and yellow, the colors of the Ukrainian flag.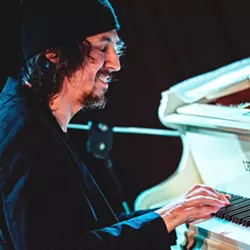 Regarding the food, the event will feature authentic Ukrainian cuisine by Southern Cross Hospitality's Chef Kyle Brown in collaboration with a Ukrainian chef, who is currently working the front lines in Ukraine providing food to workers and troops. In addition to the multi-course meal, there will be heavy hors d'oeuvres and Ukrainian-inspired cocktails.
Southern Cross Hospitality is the restaurant group behind Collins Quarter, and their Director of Marketing, Leah Gumm, encourages the local community to come out in support of Ukraine.
"Ukraine is facing an unimaginable crisis. The [United Nations] estimates that over four million refugees could leave Ukraine as a result, and that 12 million people inside Ukraine will require humanitarian relief. We are responding to a call for action and want to bring a truly organic and authentic Ukrainian experience to our community to unite Savannah with Ukraine."
Southern Cross Hospitality owner Anthony Debreceny says he is happy to help this critically important cause.
"We cannot NOT be impacted by the images that we are seeing. We just want to be a part of helping in any way we can," he said.
Tickets to the event will include an open bar, hors d'oeuvres, and the multi-course Ukrainian meal. For more information and to purchase tickets, click here.
To learn more about the organization, visit savannahsupportsukraine.org.