EVERY gourmet caffeine joneser knows the conundrum:
You want a freshly-ground, artisanal cup of coffee, yet changing out of your pajamas and heading down to the nearest café is just too daunting...because you haven't had any coffee.
It's a tortuous Catch-22 that often ends in a cup of subpar automatic drip, or God forbid, instant.
But now all the tools needed to make a superior morning beverage at home are available from the folks who introduced you to such perfection in the first place: Shop the Fox opened on Bull Street last week with an entire room dedicated to the art and craft of coffee, chock full of Chemex hourglasses, Aeropress espresso makers and locally-roasted PERC beans.
Located next door to mothership café Foxy Loxy, Shop the Fox is the retail incarnation of owner Jennifer Jenkins' vision that everyone is entitled to a fantastic cup of coffee, anywhere, anytime.
"If you want to up your coffee game at home, we have all the options," says Jenkins, who consulted with PERC's Philip Brown on the industry's most up-to-date offerings. "Just having a good grinder at home will blow your mind."
Sometimes, however, we want to drink our coffee around other people, though that doesn't necessarily mean we want them to talk to us.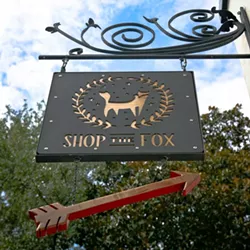 Recognizing our urge to be alone in public, Shop the Fox also carries classic novels, journals and sketchbooks that provide for a perfect solitary experience over your next heart-foam cappuccino (eavesdropping on the Tinder couple at the next table notwithstanding.)
"It's all the things you'd want to do when you're in a café," explains Jenkins.
She ought to know. The letterpress artist and former SCAD professor opened Foxy Loxy across from the Bull St. Library in 2011, followed by Broughton Street's Coffee Fox at the end of 2012.
Sensing that the area around Foxy Loxy was primed for a small commercial community, she had bought the pair of sunny Victorians on Bull with her parents, Mike and Mary Margaret Jenkins in 2010. (Her mother's maiden name, Fox, provided the café's original inspiration.)
Jenkins' hunch was on the mark: Foxy Loxy has thrived in the refurbished home with its adjoining courtyard, and its sister house has hosted a variety of small businesses. But when the last upstairs tenant left earlier this year, Jenkins considered what would happen with the property.
"The longer it stayed empty, the more I asked myself what I wanted next to Foxy," she says.
"I thought if we offer people multiple destinations right here in the neighborhood, the whole block starts to make sense."
The idea of a "coffee-centric retail space" kept nudging at the corners of her mind, especially since the tiny section of cards and cups near the cash register Foxy Loxy was getting crowded.
But she knew she couldn't pull off a third business without help.
[image-3]
While still involved in the daily operations of both cafés, she and partner Markus Kuhlmann are now busy raising their one-year-old son, Ison, which has not only helped Jenkins appreciate coffee even more but also the value of delegation.
"I've had to hand off a lot, and it's been really helpful to have others' creative input on the new retail aspect."
To help curate Shop the Fox's airy space above Wax & Wane Salon, Jenkins enlisted former Foxy barista and retail maven Megan Luther, who has added a charming assortment of coffee-related gifts and accoutrements of café culture to the mugs, t-shirts and other Foxy swag.
"Everything ties back to coffee, culture and the South," says Luther, who hunted for independently-produced items like vintage-style tea towels and horchata-scented soaps from local vendors and at Atlanta's Indie Craft Experience.
Classic meets current in the stacks of hardback novels by Mark Twain and Mary Shelley and back issues of Uppercase magazine (for the "creative and curious.")
Cards printed with steeped joe sit near the front window lined with real two-foot tall coffee plants (the perfect housewarming gift for someone who never wants to leave the house again!)
Foxy's reclaimed-wood aesthetic reigns over old-school Thermoses, and Jenkins' Tex-Mex roots are evident in copies of Lisa Fain's Homesick Texan cookbooks (where do you think Foxy's kolaches come from?)
Luther and Jenkins have plans for a photo booth and "brew like a barista" classes in the back kitchen, and—if the zoning gods shine favorably—there is the possibility of connecting Shop the Fox with the café's upstairs rooms.
For now, Shop the Fox has plenty for coffee connoisseurs of all brews, and even the hot chocolate set will find fancy in the lip-shaped pencil sharpeners and backgammon game boards.
The quirky anomalies alone are worth the trip upstairs: It doesn't get more whimsical than a ceramic saucer shaped like an alligator mandible with a gold tooth.
"I wanted to bring in some wit," says Luther with a grin.
"Coffee can be so serious."
Truer words were never spoken—especially if you haven't had any yet.
CS