THERE ARE trailblazers in this world. And then there are those who blaze trails for the trailblazers.
That, among other things, describes the late Victoria Rosaria Scalisi.
Though we speak of her as the godmother of the Savannah punk and metal scene, as an artist many years ahead of her time—in many ways still ahead of her time—she was still quite young. Far too young to be taken from this world.
Scalisi passed away of cancer last week at the age of 53. She leaves behind a daughter, Athena Raven Rapp, and a husband, David.
For historians of Savannah and Southern music, Scalisi is best known as frontwoman for the ur-metal ensemble DAMAD. Melting faces from 1993-2001, DAMAD's robust blend of dark energy and rock 'n' roll irreverence bridged the musical gap from the analog world to the digital soundspace.
In the process DAMAD helped spawn several local and regional bands and influenced countless others. Victoria would go on to perform in the band Karst, while DAMAD would morph into Kylesa.
Long before Savannah became a tourism marketing buzzword and magnet for developers, long before the mere word "Savannah" could generate online clicks for its fashion-forward hipness quotient, Scalisi was doing what pioneers do: Hacking a path for others to follow in her footsteps.
Any good pioneer has to have a massive amount of self-confidence, which isn't necessarily the same as massive ego.
They are rarely the ones to cash in on the glory they help to create. They often find their truest passion in the pursuit itself, and Victoria did just that.
Moving seemingly effortlessly as a woman in a male-dominated musical genre, Scalisi brought a level of power and direct communication to her performances which, to echo the words of many admirers over the years, cast a kind of spell over audiences.
While her rock 'n' roll persona formed most of her public image—long raven tresses flowing wave-like in rhythm with her guttural, impossibly intense vocals—Scalisi was a multi-layered person who defied easy stereotype.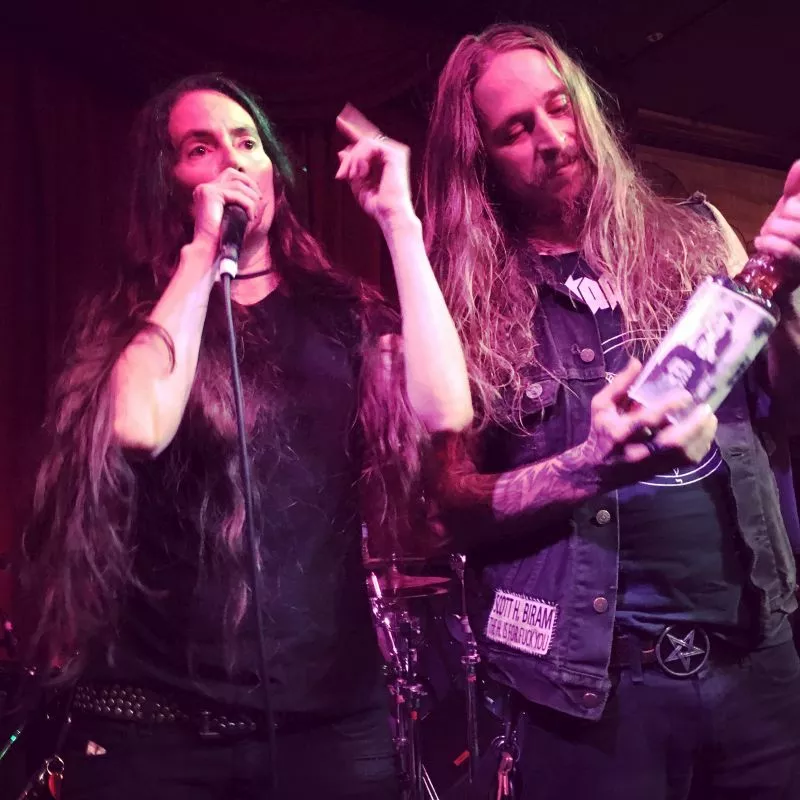 A devoted mother and dedicated partner, she was also active in the local congregation of St. Paul's Greek Orthodox Church. It's tempting to think that ancient faith's air of exotic mystery and devotion to tradition appealed to Scalisi's own artistic and musical vision.
But writerly metaphors aside, Victoria was also, quite simply, one of the most personally generous, pleasant, and funny people you would ever meet. With a kind word for everyone and a judgmental eye toward none, her vocabulary did not include the word condescension.
The paradox of an artist who traded in such heavy, apocalyptic sounds and lyrics being such a friendly ray of sunshine in everyday life was just part of the package.
In 2016, Savannah's music scene got a palpable jolt of energy from Scalisi's announcement that a DAMAD reunion was in the works.
She had already unveiled a very worthy new project, Lies In Stone, which played two remarkable gigs around town, generating excitement all their own.
The big DAMAD show at The Jinx in October 2016 was a fundraiser for friend Jake Trout. Performing alongside Black Tusk, DAMAD's last hometown show was a celebration of community and support of a good friend battling cancer.
The tragic irony of that performance became clear a few months later, as word got out of Scalisi's own cancer diagnosis — meaning she would then be the one leaning on an extended community for help in a time of need.
The band's reunion project was eventually tabled after a handful of shows nationwide, as health concerns occupied more and more of Victoria's energy and time.
We at Connect Savannah extend our heartfelt condolences to Victoria's family and friends.
The music scene has lost one of its most deeply influential members, but is infinitely better for Victoria having been a part of it.
Those who saw her perform never forgot her.
Those who didn't go to a single one of her shows could never forget her either.
And that in the end is perhaps the greatest measure of the loss we all feel.
cs