TO SAY that John Arney is enthusiastic about bicycling is an understatement. He's on track to put 8,000 miles on his bike this year.
Yet if you added the mileage of everyone who is riding a bike thanks to Arney, his impressive annual total would include thousands and thousands more miles. As a volunteer with the Savannah Bicycle Campaign's New Standard Cycles program, he spends hours every week refurbishing donated bicycles, which are then given to deserving people in the community.
Arney was recognized as SBC's Volunteer of the Year Dec. 7 at a reception at the Historic Savannah Foundation's Kennedy Pharmacy building.
Debbie Kohler received the Pedal Medal award for her advocacy work in Savannah and Coastal Georgia. SBC's annual Matt's Moon River Cruise event is named for her son, who was killed while riding his bike in Bloomingdale in 2012.
Arney moved to Savannah in 2005 after retiring from the Maryland Department of Public Safety and Correctional Services. He worked for the Division of Parole and Probation for more than 30 years and was in charge of the Montgomery County DPP offices at the time of retirement. In Savannah, he worked as an investigator conducting national security investigations for the Defense Department, Homeland Security and other federal agencies for eight years.
There's a connection between Arney's career and his volunteer work.
"I started volunteering with SBC because I'm an avid cyclist and wanted to get involved in a program that advocates for cycling in Savannah. I was impressed with the work that NSC performs in providing basic transportation to residents who might not be able to get to work without the services of the program," he said.
"I particularly enjoyed working on bikes that were given to the drug court participants, a group I worked with in my former career."
The New Standard Cycles uses Bike Athens' Bicycle Recycling Program as a model. Instead of giving bicycles directly to individuals, SBC's nonprofit partners identify recipients based on each individual's situation. SBC works with more than a dozen local nonprofits — including Lutheran Services of Georgia, Union Mission, The Social Apostolate of Savannah, and even neighborhood associations — that request bikes on behalf of clients who need bikes to get to work, to school, to medical appointments, and to other important destinations.
Arney and his New Standard Cycles colleagues are currently refurbishing more than 60 children's bikes as part of the annual Holiday Bike Drive. The bikes, along with helmets provided by the Spiva Law Group, will be given to children selected by Blessings in a Book Bag, Inc.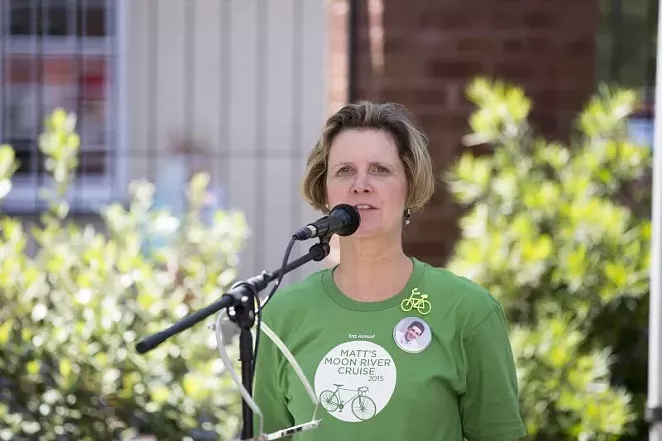 Kohler spent more than 30 years as an educator and has six college degrees, including a doctorate in teaching and learning mathematics. Following her retirement from public teaching in December 2012, she continues to teach online for the Statistics Department at Kennesaw State University, and tutors students in AP Calculus and AP Statistics.
"Losing Matthew through a bicycle accident that was of no fault of his has caused me to be even more vigilant in advocating for better roads/conditions for biking," she said.
"I share our story often in hopes that people will stop and take notice. I hope to continue to work toward attitudinal and infrastructural changes that can improve conditions for bicyclists and pedestrians."
Kohler's leadership as an advocate for improving road safety benefits countless people who ride bikes and walk in Georgia, including the recipients of the bikes Arney refurbishes.
With more people riding bikes for recreation and transportation across the United States, street design is changing in ways that improve safety for people who ride bikes, and for all street users no matter how they travel. Evolving design standards present an opportunity to amplify the positive effect of Kohler and Armey's work.
The day before they their awards, the National Association of City Transportation Officials, an organization that represents 58 major cities in North America, released guidance to help cities decide what types of bike infrastructure will best achieve their goals to build bike networks that are safe and comfortable for riders of all ages and abilities.
"Since the NACTO Urban Bikeway Design Guide launched in 2011, cities have built 307 miles of protected bike lanes—a dramatic 400 percent increase in safe and comfortable biking facilities that has been more than matched by pent-up demand for bicycling across the country," said Linda Bailey, NACTO executive director.
"Designing for All Ages and Abilities gives cities a powerful tool to evaluate their streets and make clear choices about what they can do to build safe, sustainable bike networks that attract riders of all ages and abilities."
"Designing for All Ages and Abilities: Contextual Guidance for High Comfort Bicycle Facilities," focuses on two key safety factors—vehicle speeds and traffic volume—in addition to design factors like street width. The publication "gives cities the tools they need to assess any street and decide which treatments will improve safety and support increases in bicycling."
Building safer bicycle facilities would certainly entice more Savannahians to go by bike. But there's another critical reason to consider NACTO guidance locally.
The people who are already traveling by bike today, for whom Kohler and Arney work so hard, deserve to reach their destinations safely and with dignity.
cs