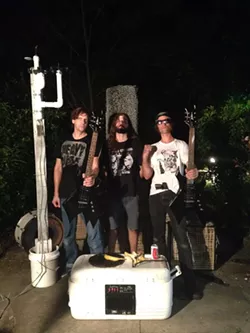 FANS of American punk history, weirdo inventions, and sludge metal will all be satisfied with the Friday bash that Graveface Records and Curiosities has in store.
Amid First Friday fun, the Starland Dairy will transform into a den of drone with sonic adventurer Quintron at the helm of his newest project, Weather Warlock.
The Starland Dairy has become Graveface's official outdoor stage—the neighborhood anchor, covered in years of graffiti and sprawling plants, was the stage for the shop's big Night Before Stopover concert as well as their Record Store Day band extravaganza.
"[The owner] is branding it as a place that should be used for these kind of things," Graveface says. "I'm in a position to do that. It's a perfect marriage."
It's common for developers to throw the word "community" around while discussing plans for neighborhood change, but Graveface is confident in Starland Dairy's progress.
"I think they are the correct people to own that structure, because he listens, has good ideas, and they don't seem to be demolishing anything—they're just going to make that a useable space," says Graveface.
The area where Graveface currently hosts shows will, essentially, remain as-is as an outdoor patio and shared space.
"They are interested in making the community happy, but not in a fake way," he says. "I'm happy they want me involved—they've been very supportive of Graveface."
Quintron is no stranger to Savannah—he's played here solo and with Quintron & Miss Pussycat for many years. In that time, the synthesizer wiz has brought all manner of inventions on tour, but this is the first time Savannah gets to see The Weather Warlock.
Quintron began developing the low-voltage, weather-controlled drone in 2011. The first base station, named Weather Warlock, was completed in Spring 2014 at the Robert Rauschenberg Foundation.
The entirely analog synthesizer uses weather sensors that detect temperature, wind, sun and rain, producing a range of tones and harmonics based around a consonant F major chords.
In building the website Weather for the Blind, Quintron hopes that streamed audio of the instrument—available every day and night for free—will help folks struggling with sleep disorders, stress, or health issues.
It's recommended for people working in windowless offices, too, who will tune into the direct link of sound and nature.
Weather Warlock is a live touring band that performs with the synthesizer. This time, Quintron will perform and handle the weather synth, with EyeHateGod's Aaron Hill on drums, Gary Wrong on guitar, Kunal Prakash on guitar, and more very special guests.
"It tends to be a pretty cool, communal affair," Graveface says. "They tend to use local players on tour. People who are more diverse, musically, with unique instruments."
Before Weather Warlock cues up, Savannahians get to see Controller, a new project from Laura Pleasants and Corey Barhorst. Pleasants and Barhorst played together for years in Kylesa, before Barhorst parted from the band; most recently, Pleasants took a new project, The Discussion, on a European tour. Barhorst currently plays bass in Black Tusk.
In addition to live music, attendees get the opportunity to meet a punk legend. In the Graveface Annex, Cynthia Connolly will be signing the seventh edition of her iconic book Banned in D.C. The book, first published in 1988, documented the Washington, D.C. punk scene through photos, flyers, stories, and more.
If you're not familiar with Connolly's name or photography, you've likely seen her most famous work: the black sheep on Minor Threat's classic LP Out of Step was drawn by a 19-year-old Connolly in crayon and watercolor.
Connolly will also present a slideshow, chat about discovering art and the DIY scene, and sign books at her appearance. The new printing includes an eight-page afterword and is available for $25 cash.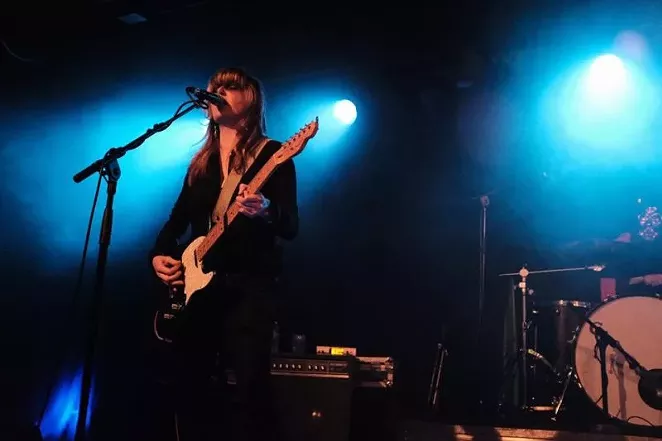 Perfect timing and wild luck led these Southern and East Coast scene fixtures together: Quintron, Laura Pleasants, and Cynthia Connolly may tread different paths, but each brings raw work ethic and a bravery for sharing the unusual and experimental with the world.
As for what that Weather Warlock is going to pick up on a humid summer day in Savannah?
"It's probably going to be a sludgy, slow howl," Graveface cracks.
cs