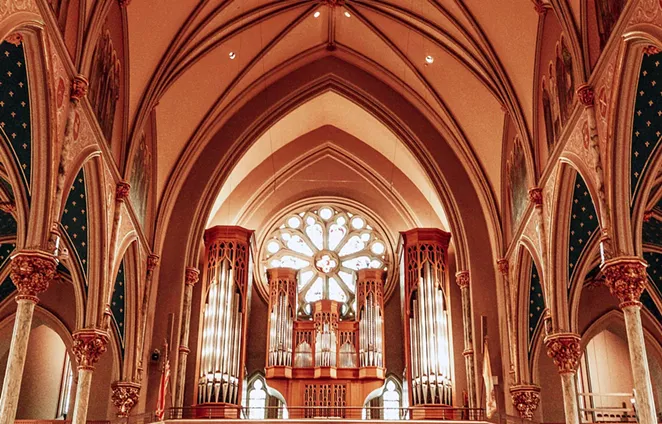 Following a major renovation project last year, the grand pipe organ within Savannah's Cathedral Basilica of St. John the Baptist is now resonating with an enriched sound, which can be enjoyed by anyone during a free concert featuring four local church organists on Jan. 17. The Friends of Cathedral Music organization is presenting "A Sonic Spectacle" concert centered on the Cathedral Basilica's huge Noack pipe organ, with its performers providing an evening of very big music to be played before a limited-capacity in-person audience while also being livestreamed for all the world to hear. The four performers are music directors from prominent Savannah churches: Monica Harper Dekle of Wesley Monumental United Methodist Church, Stephen Branyon of St. John's Church, Timothy Hall of Christ Church, and the Cathedral Basilica's own Paul Thornock.
Each organist will perform one solo piece while also performing with the Cathedral Brass, an ensemble of musicians from the Savannah Philharmonic and the Hilton Head Symphony Orchestra playing together with area music teachers. "If you measure your pleasure in decibels, this is the concert for you," said Thornock, who will be performing a composition by renowned French organist Louis Vierne, while Dekle will play a piece by Eugène Gigout, Hall will perform the "Solemn Entry" by Richard Strauss, and Branyon will treat the audience to an original work. Installed at the Cathedral Basilica in 1987, the organ was thoroughly upgraded last year with a variety of replacement parts and modernizations. "A Sonic Spectacle" will be the first concert of 2021 highlighting the organ's improved sound. "It was the organ's 100,000-mile checkup. … We did a lot of fixing up and cleaning up of little things," Thornock said. "While we were at it, we made a few improvements." These renovations included repairing metal fatigue in some of the pipes and replacing reed stops, according to Thornock, resulting in an audible enhancement. All of the refurbishment work was completed by October, and while a couple of concert performances have drawn on the organ's new sound since then, "A Sonic Spectacle" aims to highlight the full range of what this massive instrument is truly capable of.
"I think people will notice the difference," Thornock said. To abide by pandemic protocols, the in-person audience will be limited to 30% of capacity with every other pew closed off, so anyone who is interested in attending is advised to reserve their free tickets in advance through the Cathedral Basilica website. Although the musicians will be playing in the space around the organ on the gallery at the back of the Cathedral, multiple video cameras will capture the performances up-close and be projected on a large screen in front of the altar. This footage will also be livestreamed through a link on the Cathedral Basilica website, with the audio quality of the broadcast enhanced by a recent microphone-system upgrade. "A Sonic Spectacle" will begin at 5 p.m. on Sunday, Jan. 17; tickets are free, but advance registration is recommended. Visit
savannahcathedral.org
to learn more.