Get ready to be taken on a journey through time as the Savannah Theatre presents the world premiere of a new stage musical that will take audiences back to the 1940s.
Written by James R. Harris, "We'll Meet Again: A New American Musical," promises to be a heart-warming story inspired by the life of Henry Stern and his family, who escape the Holocaust to live in the small town of Opelika Alabama.
Told through flashbacks, the musical follows Stern and his family's incredible journey of triumph - from fleeing Nazi Germany as a child to growing up in Alabama and embracing what it means to become an American.
"In our 20 years of producing shows at the Historic Savannah Theatre, this is our first world premiere of a new stage musical," said Savannah Theatre owner/producer Michael Meece.
"We're proud to be part of bringing this historically significant story to the stage."
Director Richard Rose, who has been collaborating with Harris on the development of the script for several years, explained that the story is about embracing and celebrating life.
"Jim Harris, in creating this show, stated that he wanted this story, inspired by the real life of Henry Stern, to capture the essence of what America has meant to the world in our best moments – love of family, love of country, welcoming others into our culture, and striving and succeeding together as a community," Rose stated. "Henry Stern's life and the story of 'We'll Meet Again,' is truly about that 'American Experience,' which has happened in the past and continues to happen every day in our great country."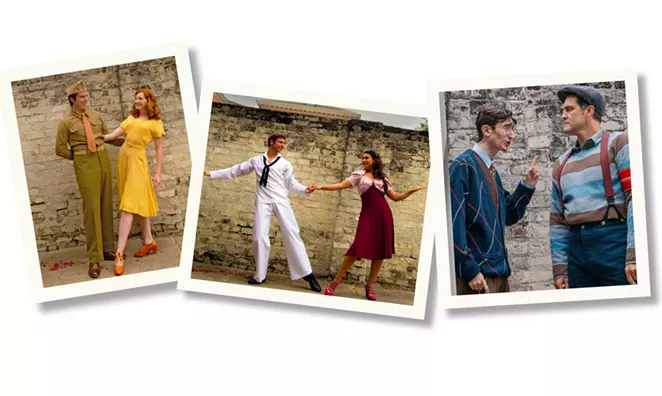 Mike Zaller, actor and one of the partners at the Savannah Theatre, says that audiences will be taken through a wide-range of emotions throughout the show, something that he feels is an accurate portrayal of life.
He will be playing the town Nazi official who chases the family out of Germany.
"I really feel like it's an uplifting story that's about triumph and overcoming," Zaller said. "But along the way the journey has some bumps in the road but it's the reality of what the true story was. Not all of it was perfect and happy but there were also good times too. There are the young soldiers who are excited to go off and fight on the side of the allies and do their part and then we have the Sterns who are trying to find out what is going on with their family back in Germany."
Along with Zaller, the cast includes some of the Savannah Theatre's other company actors, local Savannah performers, and six out of state actors who have come in just for this show.
For one out of state actor, Jeremy Kole, being a part of this production hits particularly close to home.
"My family has a similar story," Kole said. "They left Germany, left their family behind only to find out later that their family was exterminated. So, in the play I get to interrogate the Nazi responsible for our families being scared away."
"My grandmother did not get that opportunity but she did become a genealogist to find out exactly what happened to every single one of my family members," Kole continued. "The script of this story is a little too real…it hits close to home in a very good way and this whole experience has been wonderfully emotionally charged, especially for me."
With good musicals comes a fantastic soundtrack and "We'll Meet Again" is certainly not short of fantastically familiar era appropriate hits. Some familiar songs audiences can expect to hear include "Boogie Woogie Bugle Boy," "I'll Be Seeing You," "The White Cliffs of Dover," and more.
Music arrangements are by Mark Hayes and according to director Richard Rose, the score not only utilizes well-known standards, but also overlooked gems from the World War II era.
"There are some interesting songs performed that people maybe have never heard that are some really good songs," Rose noted. "And then the audience will also hear the classics from World War II that are both nostalgic and fun, ones that we all know."
In a true director's nature, Rose gave his final thoughts on what he's hoping audiences will take away from attending.
"We hope that Jim's show will serve as a reminder to all of us, as to what is good and great about our country when we live up to our ideals. We hope this story will inspire you, as it has inspired us, to understand all of the wonderful things we are capable of discovering together on a daily basis."
Performances for "We'll Meet Again" will take place Aug. 19-28 at the Historic Savannah Theatre. To purchase tickets or for more information visit savannahtheatre.com