DANIELLE Hicks has something sweet for Savannahians: Her first album.
The charismatic vocalist and Tifton native has been singing ever since her stage debut at Georgia's leading barbecue cook-off (she was seven years old and took home first prize in the Young Talent contest). After years of guesting in her old man's Southern Rock band, she followed her performance dreams to American Musical and Dramatic Academy in New York.
Hicks left the big city to come home to Georgia, forming Danielle Hicks & The Resistance in Savannah and developing an adoring fan base. Her record, Honey, is a project several years in the works, and for her first big recorded endeavor, Hicks wanted to make sure the sound was as grand as her vision.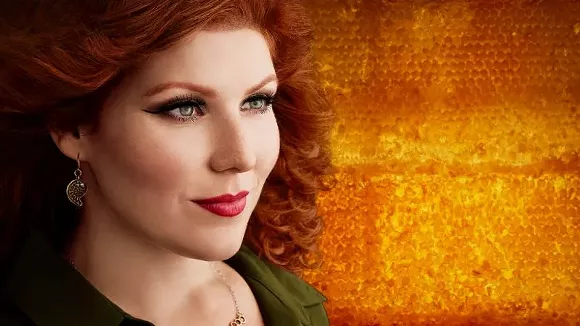 Hicks began recording at a Charleston studio with state-of-the-art equipment, a great engineer, and a "be your own producer" approach to recording. As she worked and worked over the songs, Hicks began to realize that the DIY method wasn't the best fit for her style.
"I was flying blind, and it got to the point where I wasn't happy with it," she explains. "I'm not a producer—that's not my strong suit. I love to sing, talk to people, and write songs!"
Many dollars and hours later, Hicks went back to the drawing board. Her endlessly supportive fiancé, the photographer Blake Crosby, began researching the career paths of similar bands and discovered the work of powerhouse producer Jim Scott, who's created records for the likes of Red Hot Chili Peppers, Tom Petty, Wilco, and more.
Hicks poured over the Grammy-winner's incredible discography, stacked with some of her favorite artists like Bonnie Raitt, Grace Potter, and Tedeschi Trucks Band. Then and there, the musician decided that it never hurts to try.
"You want to be the best you can and have faith in your art," she says. "I decided, 'I'm going to shoot him an email.'"
She fired off a short message and included three song files: Two that she considered her best, and one of her worst.
"I didn't want to be false," Hicks explains resolutely. "I wanted him to see the best I have and I wanted him to hear what I've been struggling with. I was protecting myself."
Scott's studio responded, and before she knew it, Hicks was explaining her vision to the legendary producer through several phone interviews. Of course, recording with a world-class producer and backing musicians that he knows and trusts costs a pretty penny. Hicks sat down and went through the deal line-by-line, negotiating and determining how to make her dream happen.
"I saw $1,000 for food," she recalls. "I'm Southern. I'll bring casseroles!"
One line allotted cash for a hard drive; Hicks and Crosby brought in their own instead.
"We pulled it together," she says. "He just seemed like he was worth it."
Hicks, Crosby, and Ben Keiser, guitarist in her band The Resistance, headed to PLYRZ Studios in Valencia, California to make it happen. Scott had assembled a team of session musicians who could help Hicks fully realize her sound: Guitarist Neal Casal (Ryan Adams, Hard Working Americans, The Chris Robinson Brotherhood), keyboardist John Ginty (Santana, Robert Randolph and the Family Band), keyboardist Chris Joyner (Heart, Amos Lee), drummer Jimmy Paxson (Beyoncé, Stevie Nicks, Dixie Chicks), bassist Jesse Ingals (Ben Harper and the Relentless 7, Charlie Musselwhite), and drummer Alan Hertz (Garaj Mahal, Eric McFadden).
"Every single song on the record, we never did more than five takes," Hicks explains. "Everything was tracked live except select vocals and overdubs and a few guitar solos."
Instead of stopping when someone messed up, Scott encouraged the band to play through any errors and asked if anyone had "any confessions to make" after each song. His approachable vibe and sharp ear made a workspace that teemed with creativity and warmth.
Honey features songs that were completed as far back as ten years ago and others that were completed in the studio. Hicks knows she's got a song that's going somewhere when she writes a strong hook and melody.
"I keep my notepad going on my phone, I send myself texts, if I overheard a fragment from a conversation that I think is unique or ear-grabbing, I like to keep track of it," she says of her writing process.
These days, Hicks lives about a half-hour away from Savannah in South Carolina. She writes some of her best songs during her commute.
"I'll go on a podcast binge, but then I'll go on a thinking-and-creating-in-the-car binge," she says. "Just riding in silence and thinking. I like writing after yoga, too—you feel good and you feel like you've done something, especially after hot yoga!"
Fans old and new will find that Hicks' signature soulful blues-rock sound thrives on Honey, and her voice is beautifully supported by superstar instrumentation. Starting with the summery, carefree "Red Bird," Hicks' voice tumbles into a deep groove on "Life Is Sweeter," carrying attitude, grace, and power in her melody. Standout "Hidden Treasure" is an explosive house rocker with throwback organs driving Hicks. The vocalist gets gets wild and eases between a polished sound and raw rock passion in that cut.
At last, Honey is ready for the world to hear. Hicks has been running an Indiegogo campaign to recoup recording costs; the fundraiser runs through September and features a number of unique perks. $20 gets you an immediate download of the album or a CD and digital download bundle, and for just $35, you've earned a digital download, signed CD, a sticker, and a ride on the party boat from Hilton Head to Daufuskie Island (destination: album release party Old Daufuskie Crab Company). The wide variety of pledges offer a vinyl album, guitar lessons with The Resistance's Ben Keiser, and even the cover song of your choice for Hicks to sing on video just for you. Superfans ready to throw in $2,500 get a custom studio recording (your song pick), plus two signed CDs, admission to the Daufuskie Island release party, Honey on vinyl, a t-shirt, and more.
Hicks is overwhelmed by the generosity of fans and strangers. After leaving PLYRZ Studios with a new friend and mentor (and a beautiful unicorn mirror from the vocal booth, a gift from Scott), Hicks is all in and ready to share some Honey.
"Being tracked live with those amazing players and Jim's guidance, it's a really high-energy, fun listen," she says." "I hope everyone has a good time listening to it."
CS