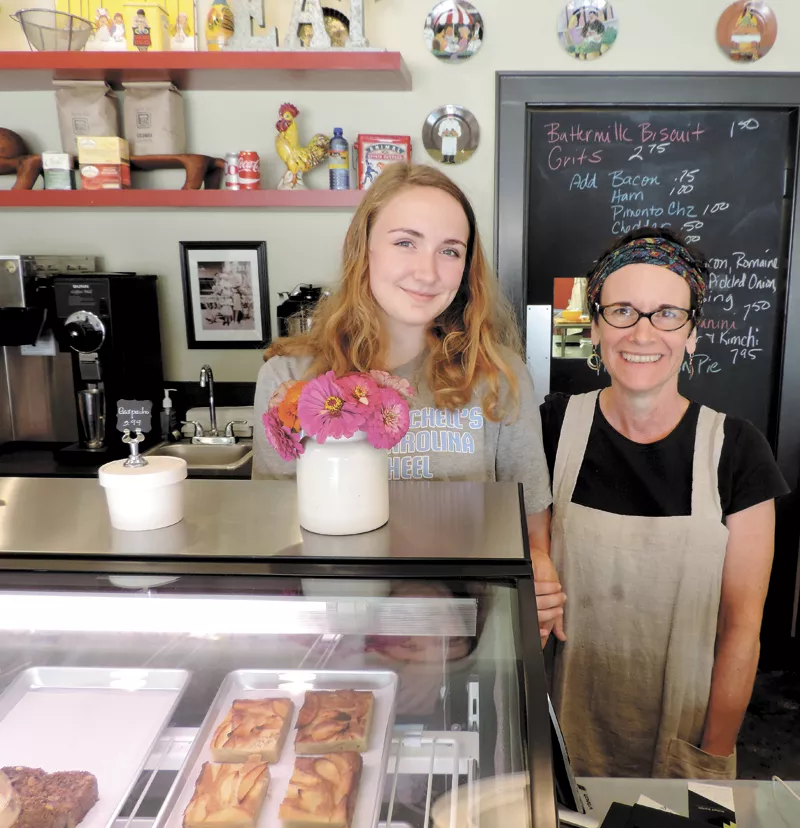 WHEN Lisa Moore opened this sweet spot, hidden away in a little shopping strip behind Sweet Potatoesn at Waters and Eisenhower, she had no idea what a hunger people here have for something fresh and natural.
Surrounded by big box Walmart, Kroger and Publix, folks in the area had gotten to craving something you just couldn't find without a testy drive into downtown Savannah.
They were ready for homemade taste and hand-crafted sweets: Lisa got there just in time for Thanksgiving last year.
Her bakery is tucked away at the end of a string of businesses headed off with my hubby's work place, Southern Pavers, so when I came by to see him one day I noticed this lil' spot with surprise.
Brand, spankin' new, it was a pretty, simple nook, fragrant with the smell of fresh cookies and brewed coffee. It was the day after Thanksgiving so the selection was a little sparse, but I took home a bacon cheddar scone and a macaron-like orange almond button and made plans to come back.
Mattie Belle's is named for Lisa's grandmother, a true Southern lady who loved to grow her own veggies, can and pickle up fresh fruits, and, best of all, have great, big family dinners.
Lisa had the best of teachers in her grandmother, who showed her the joys of baking and of experimenting with recipes to make them uniquely your own. "Farm fresh" was basis of everything that came out of Mattie Belle's kitchen, and she passed on that standard to her granddaughter.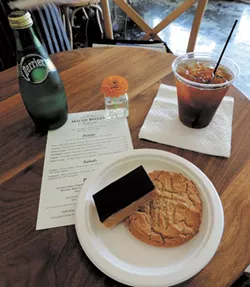 Years later, when Lisa had a child of her own, her daughter, Sydney, was delighted to be the recipient of those family recipes and gave her mom plenty of inspiration.
Lisa proudly supports local sources like Freeman's Mill and Southern Swiss Dairy, and especially loves their tangy buttermilk for making scones, biscuits, cakes and even a rich panna cotta with it.
She frequents the weekend farmers market to find in-season fruits for her goodies. She met Philip Brown of PERC Coffee there while browsing—what better mate to a warm scone than a cup of PERC?—and now carries a good variety of his top-notch product, hot and fresh each day.
Family recipes are the basis of a fine selection of baked goods here, and Lisa has a natural love of French cooking that gives her line-up a European flair. Stop by early to catch her hand-crafted éclairs made of French pot de choux pastry mixed with real butter. The apple bourbon cake has become a local favorite, as well as a moist and tender apple cake.
Her rice pudding is made in the French manner as well: Crème anglaise without cinnamon, served cold, and flavored with real vanilla bean. The arborio rice gives it a distinctive creaminess.
During this past Christmas she regularly sold out of her beautiful bûche de Noël (yule log) made of moist chocolate sponge cake rolled up with thick whipped cream, sprinkled with snowy powdered sugar and accompanied by a dainty host of meringue mushrooms. Pecan pies, hummingbird cakes and carrot cakes top out the list of take-home holiday delights.
Around the first of the year, Lisa developed a line of breakfast and lunch items that include fresh salads, crusty panini, as well as quiche and an incredible Vidalia onion pie. Watching the seasons here means exquisite fruit pies for dessert, so don't forget to ask about the daily specials.
Her juicy, sweet nectarine pie made with fresh cream and a buttery crust is so good, you'd be hard-pressed not to take the whole pie home!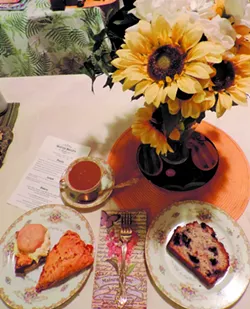 Breads for the panini are made in-house, and covers everything fromsmoked turkey, Virginia ham with cheddar or a tasty Italian sandwich with salami, fresh pesto, sun-dried tomatoes and mozzarella. The "Bubba Cuban" is more of a French version, minus the roast pork and sports Dijon mustard with Swiss cheese and pickles. If you're a fan of pimento cheese, don't miss the Pimento Pig—it's a simple sandwich of her house-made cheese with bacon, but rich and satisfying.
Salads come in two varieties. The Italian is dressed in vinaigrette, Provolone cheese, chickpeas and salami, and the Greek has a wonderful Goddess dressing. Weekly specials feature selections derived from local produce from the farmers market so be sure to check the Facebook page and get inspired—seriously, those pictures will make your mouth water!.
Breakfast here is simple, but so beautifully made, fresh and incredible tasting that you just gotta stop by one morning and try it for yourself.
Big buttermilk biscuits stuffed with ham and pimento cheese, fluffy scrambled eggs or bacon make up the most frequent orders. The bacon cheddar scones, warm with real butter, or the blueberry banana bread are worth the trip.
Grits? Yep, she's got'em: Stone ground, natural grits slow-cooked for at least an hour on the stove each morning and topped with cheese and smoky bacon chunks.
It's all a Southern heart could ask for!
cs