AS EVERY pet owner knows, one of the joys of having an animal is taking endless pictures of them. Every position, every funny face, every tender moment—each requires its own photograph.
It's easy now that we have smartphones basically attached to our hands, but back when William Wegman started photographing his beloved Weimaraners, there was a lot more work involved.
Fans of Sesame Street in the '90s might remember Wegman's dogs on the show, wearing clothes and performing human acts, like counting or changing gasoline in a car.
Wegman's current exhibition at the Jepson Center, "William Wegman: Improved Photographs," includes both videos and photographs of his dogs, as well as other past and current work Wegman has done.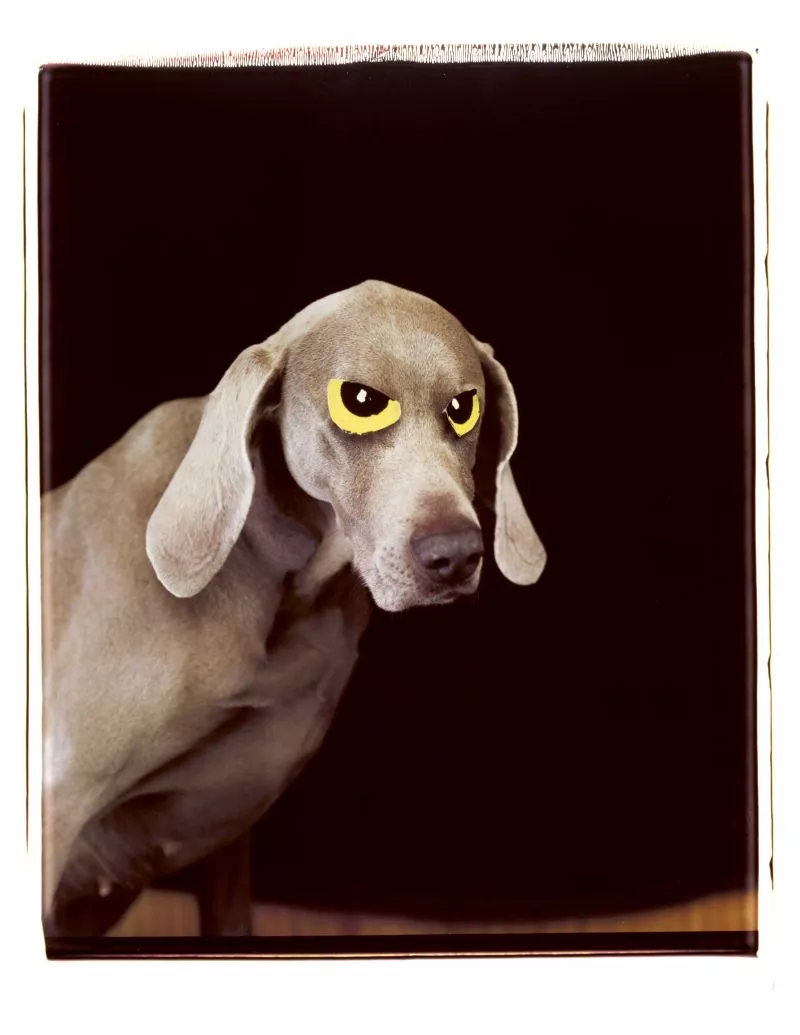 When Wegman adopted his infamous dog, Man Ray, in 1970, his photo and video career had just begun. Man Ray would hang out at the studio, so Wegman started to shoot him doing different things.
Wegman eventually adopted another Weimaraner, Fay Ray, and the love affair with the breed grew from there.
"The thing about the Weimaraners is that they've turned into people, but they've also turned into categories of other dogs," notes Wegman. "Creatures, landscapes, toys—they've mutated into different things."
But the question remains: why Weimaraners?
"They like doing it, they're still, they're grey," Wegman says. "Those three things, basically. Other dogs would be sort of very specific, like, 'Oh, that's a Lab, that's a Collie.' A Weimaraner is like a ghost. It's a grey shadow."
Indeed, with much of Wegman's work, particularly in video, the dog assumes a different, humane identity.
The dogs wear anything from chef coats to ball gowns and have the arms of a human, mostly Wegman's assistant Jason, coming from behind.
"The tall dog is sitting on a stool, and the dog is in a shirt, which is packed out with a vest we put on the dog," Wegman explains. "The sleeves are cut open and people are hiding behind."
Were any dogs resistant to this practice?
"Yeah, and then I didn't make them," shrugs Wegman. "You don't want to do it? Fine. Every dog is different. One dog was really good with hats; another dog was not good with hats."
While the dogs provide a fun highlight of the show, there's a lot more to see in "Improved Photographs."
"Rachel [Reese, Associate Curator of Modern and Contemporary Art] had the idea of making a show about things that involved my hand," explains Wegman. "The title of the show is from a portfolio I did, and what had happened was I got a new camera and didn't quite know how to use it. I ended up taking some not-so-good pictures. Rather than throw them away, I tried to improve them."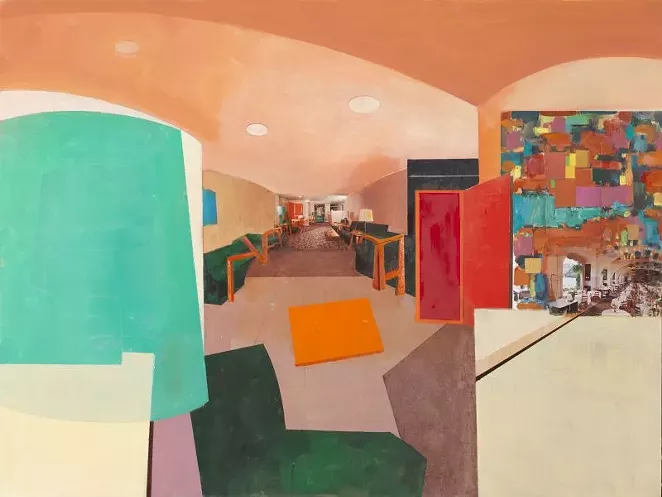 That meant drawing faces on a low-res photo of rocks, or turning a dog into a cat. Much of the work in the exhibition have this sort of post-editing in them—some of Wegman's latest work involves a postcard that he's drawn on to make it funnier.
Wegman's sense of humor is evident in each piece in the show, making this exhibition refreshingly funny. "Improved Photographs" will remain up at the Jepson through August 13.
cs