THIS weekend, Bull Street Labs lights up with some of Savannah's brightest women. As storytellers of all walks of life share true tales onstage, improvisers will create spontaneous theatre inspired by those narratives.
Front Porch Improv, the innovative Savannah-based comedy group, has invited storytellers Patt Gunn, Founder & Executive Director at The Geechee Institute; former Connect Community Editor Jessica Leigh Lebos; Savannah Stage Company Artistic Director Jayme Tinti; author, podcaster, coach and speaker Omkari Williams and professor, publisher, author, playwright, and screenwriter A'ndrea Wilson Ph.D, M.F.A., to take the stage, while improvisers Renee Theresa Fincke, Melanie Goldey, Danielle Shaw, and Brianne Halverson continue the story.
We spoke with some of Women Rule's stars to learn more about the power of storytelling and what's in store for the special night.
The inspiration
Brianne Halverson: Day after day in Savannah, we talk to different women who are so talented and doing creative things in the community. We wanted to find a space where we could not only learn about each other, but also laugh about it. That's my background thinking: a way to collaborate with more people and raise money for good causes.
Storytelling in their own lives
Jayme Tinti: Theatre is telling stories. I've always got my hand in something, trying to figure out the heart of each play, the heart of the story we want to tell. Anytime I can be part of crafting a story, I will be—especially if Front Porch Improv calls!
Omkari Williams: For me, I actually think stories are the underpinning of everything: how we get to know each other, how we build bridges, how we build walls. Story is literally foundational, from learning how to tie your shoes—someone tells you how to tie your shoes with bunny ears—to meeting your best friend to sit down over coffee and finding out how much you have in common and beginning a friendship for life. Everything I see and experience, there are humans involved and stories involved.
Patt Gunn: I was born and raised in Savannah. For the past 20 years, I've been doing storytelling, but my background is law. My stories are focused in on the actual community I was born and raised in and of the Gullah Geechee.
I'm drawn to tell the stories that I heard from my grandmother, aunt, and my mom—stories about the strength of the women we were. I have lots of good stories about them and their mannerisms, spiritualisms, and the culmination of the things that gave them strength to sustain themselves.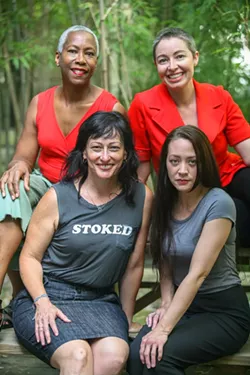 The format of Women Rule
Halverson: The theme of the night is informal. I don't want anyone to feel like they have to be funny—whatever story they're going to tell is going to be meaningful for us. The format is a person tells a five-minute story, then a group of improvisers take the source material and we will play for ten minues. We may take a character, a scene, or location, and we'll create comedic, ideally, but sometimes interesting scenes. That's one of my favorite parts of improv—something that doesn't get explored as much. People tend to think of Whose Line Is It Anyway?, but that's not what this is.
I told [Women Rule's participants] it's nice if the story has an empowerment theme...from a time you were self-empowered or a disempowered moment, a time you overcame something. Hopefully we'll have diverse stories that will go different directions and the improv will just play.
Tinti: The first thing I always think about is theatre, but I was also thinking about female artistic directors and all the millions of connotations that can come with that. I think mine is going to be a theatre story that challenges the notion of being a brand-new artistic director and the challenges that come from it.
Williams: I'm not sure what story I'm going to tell yet, but I might tell a story about a time where I gave my power away, partly because people, for whatever reason when they meet me...that's not what they think of. I used to live in a meditation center for three years, and it's a very interesting experience, on particular moment I gave my power away.
Telling stories in 2018
Gunn: I think it's time I talked to new generations and millennials so they have an intergenerational connection with me. How can I help where they're going? I think it's an enlightenment period in all mediums. We can enlighten and educate and heal—my focus is really healing.
Halverson: You look at Instagram and there's a whole section called Stories! People want to hear authentic moments in your life on a daily basis, and stories like that and events like this are celebrating that's. It's curated—it's something where you can see yourself in other's lives or experience something completely new and different by allowing yourself to listen and be affected. That's one of the reasons we're doing this.
Gunn: One of the wonderful things I saw when I went to The National Museum of African American History and Culture opening is, once you came out of the museum, storytellers had booths set up immediately so you could share your experience. That was powerful. We got a chance to talk and share, and they recorded it and gave it back to you so you could take your story home with you. I took my story home, and I met some storytellers that felt what I was feeling when I came out. There was even a wailing booth—if you felt that kind of emotion coming out, they had a booth where you could wail and cry. That is powerful.
Williams: Stories are everything. It's how we know we're not alone in the world.
CS