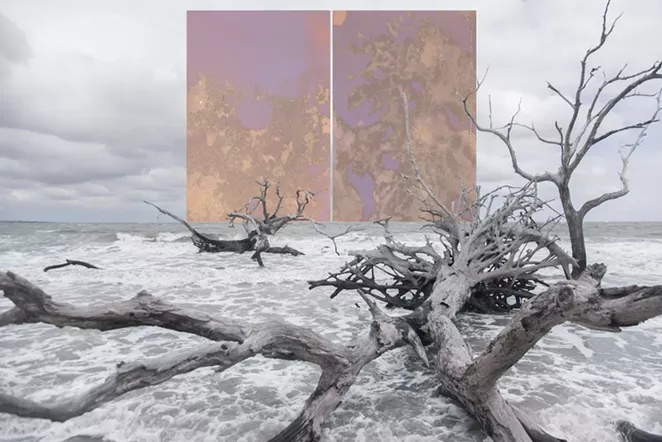 An online exhibit is providing insight to the creative processes of three women photographers who each have Savannah connections, and who are persevering through the pandemic with varying artistic approaches. The exhibition,
Traces of Being
, is a group photography show curated by Kristie Landing, founder of the Landing Contemporary Art online gallery. The current show, stretching through January, features work by Nicki Klepper, Kyra Schmidt, and Julia Wilson, three artists who graduated from the Masters of Fine Art in Photography program at the Savannah College of Art and Design. "The works in this show contain literal traces of elements from where the artist has been and what happened in their process of creation. There is also a strong sense of appreciation for nature in this show," said Landing. The initial concept for this exhibition was to pull together a female-led show of alternative photography made with historical processes like lumen prints, cyanotype, carbon prints, and other non-commercial photography methods.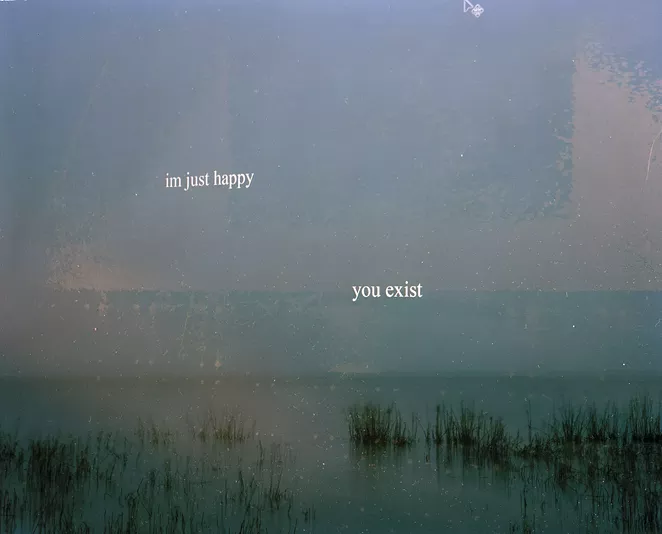 "Nicki Klepper's works are lush, ethereal lumen prints where she took organic matter and placed it on photographic paper in the sun. There is an element of chance; she didn't know what the print would be until the end. But when she removes the plant or fruit there is this beautiful residue that is the trace of something that was once a ripe, living thing," explains Landing. "That matter eventually decays, whereas the print remains. And I thought that was a really beautiful thing to think about, and it's a nice metaphor for this year." Klepper's body of works,
Imprints of the Southern Sun
, is a meditation on her intimate moments in isolation and her expression of gratitude for the beauty that is left after chaos. "What I'm interested in mostly is documenting time and change, and how our perception of place and space is based on the contemporary knowledge of that space. Having started my work in Savannah about quarantines and quarantine locations from the past, I was able to continue my research into the modern-day with our current pandemic," Klepper said. "A lot of this project was a result of wanting to add a new element of artwork to my research, and I was able to do this by focusing on the keepsakes that I've created during this time."
Majoring in classics, and focusing on Latin and ancient Greek, taught Julia Wilson to look at images with the same complexity, nuance, and beauty as studying language. "I study the complex relationship between text and image, and how they are interpreted when presented together; I believe this subject now holds a renewed sense of urgency in our present state of informational overload and mass photo-textual interconnectivity," Wilson said. "This overabundance of information can be considered a lingual crisis, signaling the loss of meaning through overexposure." Schmidt's works in this exhibit are drawn from a pair of her recent projects. "The two bodies of work I have in this show are somewhat diverse in content, yet they are very much united, not only by the lumen process but through themes of ephemerality and community. It is a very magical and unpredictable process, affected by variables such as temperature, matter, time, and more," Schmidt said. "Transcriptions attempts to embody the sensation of being in nature by bringing the paper into physical contact with natural matter. For A Yellow Rose Project, I came back to the lumen process due to its ephemeral nature and universality. At their core, both bodies of work emphasize mindfulness and personal connection." The three women in this group exhibit have worked closely together, helping each other formulate ideas and work through their artistic processes, and to artistically interpret these difficult times. "When putting together this show, I thought about the year we've had and how these works are able to connect with what we've been going through on multiple levels. Ultimately, I ended up focusing on the concept of 'traces' and calling the show
Traces of Being
because I felt it was timely and tied together the works in a meaningful way," concludes Landing.
Traces of Being
is currently on view online at Landing Contemporary Art − a nomadic gallery that strives to pave the way for emerging artists − until January 31. Visit
landingcontemporaryart.com
to view the exhibition.