THIS YEAR'S election is sure to draw large crowds, and when voter turnout increases, so does the need for poll workers at the precincts.
Ahead of the election, the Chatham County Board of Elections is encouraging citizens to consider becoming a poll worker.
Young people are especially encouraged to apply because typically, poll workers are older citizens who are most susceptible to COVID-19.
What's it like to work at the polls on Election Day? We talked with Billy Wooten, a poll worker trainer who's been at it for 22 years, about what it's like.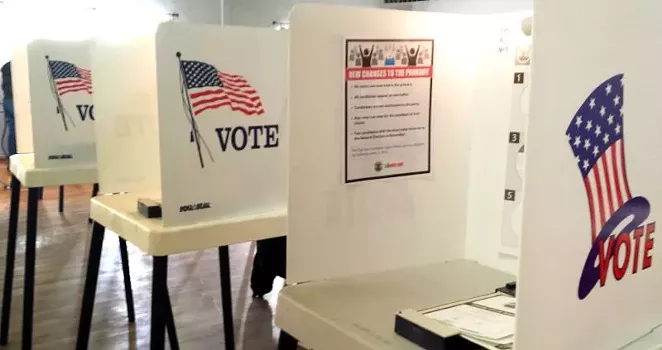 What made you want to become a poll worker?
I went to vote at a local poll, and the poll workers did not look like the voters who were in the line. I wondered why the poll workers didn't look like the voters.
The line I was in had Hispanic, black, white, young, old, gay, straight, people with strollers and people in wheelchairs. It was a very diverse long line of people, and that was not the people working the polls.
The ones working the polls were asking questions, like they'd look at a license and say, "I'm not familiar with this address. Is this in Savannah?" or, "How do I pronounce your last name? Are you from here?" I wondered, "Why would they be asking questions that seem to be eliminating people from voting as opposed to encouraging people to vote?"
I signed up and began. I worked as a clerk, then an assistant manager, and then I ended up as the manager. I've managed six or seven polls. In 2015 they asked me to join the training team, and now I lead the training team.
How do you recruit poll workers?
We put out the word. We encourage current poll workers to recruit and send people to us so we can complete the application.
I had a group this week, a sorority from Armstrong [campus of Georgia Southern], contact me and say, "Some of our members would like to work the polls." So I did a Zoom call with them to encourage them and tell them what the process needed to be.
What's the importance of having younger people work the polls?
There are a lot of reasons to have younger people. One, COVID, of course. Two, there are a number of machines now that we have to unpack, lift, set up, plug in. It's nice to have younger manpower.
Most young people have a higher level of technology skills than our seniors do, so they're also very valuable at the poll to set machines up, turn them on, make sure the correct password is used, those kinds of things.
It also creates the possibility that this younger person will decide that this is something they want to do from now on. We've got poll workers that have been in the system for 30 years. In fact, you could even say we have poll families, because the grandmother manages a poll, the daughter manages a poll, and now the granddaughter works at a poll.
What is Election Day like for a poll worker?
You get there at 6 a.m. to set up. The poll opens at 7 a.m., and then you have 12 hours. The poll closes at 7 p.m., but anyone in line at 7 p.m. is allowed to vote, so if you have a long lone, you're going to be there until the last person votes.
In 2018, in the midterm, I managed Georgetown Elementary and I had more than 200 people in line at 7 p.m. I still had people in the poll finishing up their vote at 9:30 p.m.
How many poll workers do you need for Chatham County?
I would say between 800 and 1,000 is what we're going to need for the general election in November. It's a big election; we will have crowds. We have to have people to take care of the folks that are in line.
In some polls, we have to assist with parking, show people where parking places are, and to make sure they don't park in the wrong places. There are a lot of things to do in a big election.
We've got some polls that will not have a line on Election Day, and we have some polls that have a line all day.
What's your favorite thing about being a poll worker?
I enjoy working with people, and we now have such a diverse group of people. I appreciate the fact that our poll worker population is extremely diverse and it reflects the overall population of Chatham.
How can people become a poll worker?
They would need to come by the Board of Elections and complete the paperwork. I would say sooner is better because within six weeks, we vote, and we're going to run out of time to process paperwork and to teach classes.
Training is required—they have a two-hour intro to elections class and then a three-hour clerk class.
As we get closer to Election Day, we will not have time to offer classes. It's hard for me to say exactly a [deadline] date, but because we have to process paperwork and get them into the system, it's better soon.
What would you like people to know about being a poll worker?
It's extremely rewarding work that I would encourage people to try.
CS