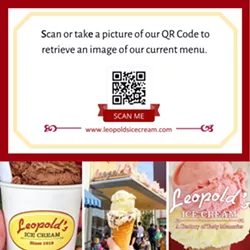 To adapt to the realities of the COVID-19 pandemic, Leopold's Ice Cream has instituted new measures.
The dining room is closed and only six guests will be allowed inside the shops at once. Guests will not be able to sample before ordering.
The use of cones is suspended and ice cream will be served in to-go containers only.
Paper menus will not be available. Instead, guests can view the menu by scanning a QR code at the door, or by visiting the
website
: https://www.leopoldsicecream.com/flavors-menu/cafe-menu/
Additional sanitation stations are available at every location.
Curbside pickup is encouraged for food, beverage and ice cream. Visit the website to place an order or for additional details:
www.leopoldstogo.com
.
The Broughton Street location will be open from 12 p.m. to 9 p.m. The airport kiosk will be open from 11 a.m. until 6 p.m., and the shop from 12 p.m. from 7 p.m.