Maria Whiteway
I'm a vibrant Italian-American with a zest for life and a glutton for all things food. By day, I'm a Board Certified Behavior Analyst, working with children and adults who have autism. By night, I am a food writer, creator, stylist and photographer for my personal blog. Although my strong work ethic has lead me to a fulfilling profession, my forever passion has always been and will always be FOOD. I am on a persistent trek to gratify my taste buds. So, here's a little bit about me. I was born and raised in Syracuse, New York by my mom and large supportive Italian family. My story and love for food dates back to the 1940s, when my brave Grandma, Theresa, rode a boat from Sicily, Italy to Ellis Island, New York. With her she brought her rich Italian heritage and adoration for food. After moving the whole family to Syracuse, my parents, aunts, uncles, siblings, cousins and I grew up sharing meals around Grandma's dinner table. Every Sunday, Grandma served homemade pasta and meatballs with fresh marinara sauce and torn basil from her garden. She may have spoken broken English with a thick Italian accent, but her food spoke loud declarations of love and appreciation for her family. It was years of imitating Grandma's kitchen prowess and pure love for her family that instilled a passion for cooking and eating deep into my being. My attorney husband and I moved to Savannah one year ago, seeking to escape the winters of the North. With us, we brought our obsession for cooking and indulging in delectable eats. Restaurants of all ethnic backgrounds, cuisines, dollar signs and dimensions preoccupy our nights out. Over the years, I have photographed and gloated about the fantastic fare I have eaten. My blog and Connect Savannah serve as my grandstand to feature and reveal what I have encountered with friends and family. Please join me on my journey in my kitchen and to diverse restaurants, as I eat and cook my way through flavory fare. To be honest, I am just an ordinary girl with extraordinary taste, which is why I am a Common Connoisseur.
Trending
The Grove: Four bars, three stories, one great concept
April 11, 2018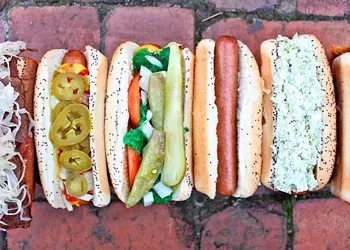 The Naked Dog: How would you like that dressed?
Cart also offers authentic Italian ice
February 08, 2017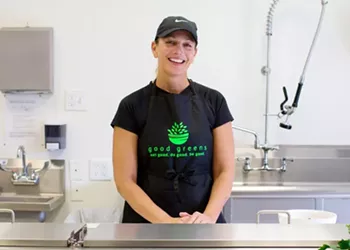 Good Greens: Eat better, not less
Wilmington Island shop offers healthy food to-go and for delivery
February 22, 2017