Singer, actress, and songwriter Katie Deal has had an amazing career with her own art—whether it be collaborating with the likes of Zac Brown Band's John Driskell Hopkins or Sugarland's Brandon Bush, or acting in films like Let's Be Cops. One project that's near and dear to her heart, however, is her tribute to the great Patsy Cline.
Deal has actually been involved in several Patsy Cline shows, having performed in two national productions of A Closer Walk With Patsy Cline and staging her own one-woman tributes. She's bringing her latest Cline show, Crazy For Patsy Cline, to the Tybee Post Theater on Sep. 20, and it's shaping up to be a unique and intimate portrayal of the late singer's incredible life and work.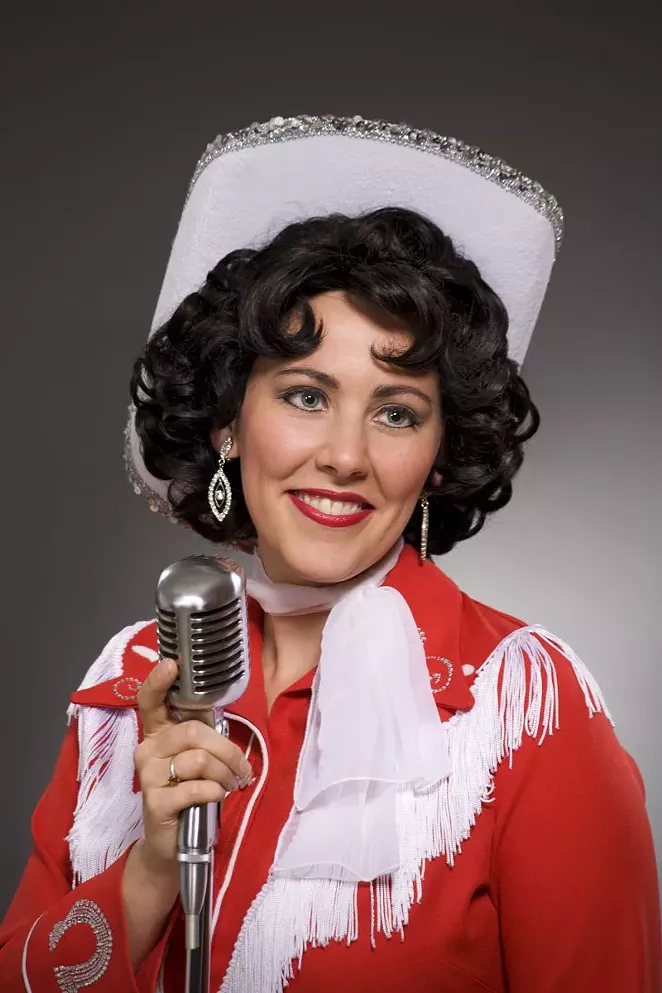 Ahead of the show, we spoke with Deal — the daughter of former Ga. Gov. Nathan Deal — about Cline's legacy and what it's meant to her to portray the beloved country icon.
How did you end up having such a close association with Patsy Cline's music? Did you have a lifelong love for it?
Well, I grew up listening to her. My mom was a singer when she was younger, and she has a very low alto voice. So she sang a lot of the music when I was growing up, and the Patsy sound sort of sounded like my mother to me, as as a child. I was in a band in high school, doing singer/songwriter type stuff. I had a friend who used to come to the shows, and we'd worked up a couple of Patsy numbers. I hadn't really done any research about her, I just knew who she was and loved the music.
My friend would come to the shows, and every time I'd sing a Patsy song he'd say, "You've got to learn more, because you sound just like her." So that sort of started to spark my interest in learning more about her. I graduated high school and was still playing music, but graduated from college and kind of dropped the music thing for a bit. I got a theater degree from Piedmont—music was always there but I wasn't really pursuing it as a career.
Then I ended up getting hired by a company in Memphis that was doing a show about Patsy Cline! It was A Closer Walk With Patsy Cline. In my interview for an internship there, I said, "Hey, I love Patsy Cline's music and people say I sound like her. I need to be in that show." I hadn't gotten the job yet, and they told me that they already had somebody who was cast for that. Of course, you don't do that show unless you have a Patsy, but I didn't know that at the time because I was twenty-something and ignorant [laughs]. They hired me to be an intern, but they also gave me the understudy role to play Patsy once a week for six weeks. I found out later that they never did that for anybody. And that set me off. I started getting roles playing Patsy once I left Memphis.
That's a really amazing evolution creatively. How did you ultimately end up doing this current show?
I got a call from a company who said, "Hey, we want to book your Patsy Cline show." I said, "I don't have a Patsy Cline show" [laughs]. They asked if I could do something in a concert form, and I decided that I could. I went back on the road, but this time as my own boss with my own show. This was in 2012, and ever since then I've been doing my own concerts about Patsy Cline and various other artists.
My first show was really more of a mini musical called Today, Tomorrow, and Forever: A Tribute to Patsy Cline. It was more about how I became a fan and started singing her music, but this show is kind of a new concept. I'm going back to what made her special. I'm just a vehicle to tell her story.
What do you think it is that made her special?
I think there are a lot of pieces to that. The thing that stands out to me the most is that she was an anomaly. She was unafraid of being who she was, which turned a lot of people off. She had a pretty tough childhood and had to go to work pretty early on because her father had left the family. Her mother was only 16 when she had her, so they were very close in age and best friends. She had two younger siblings, and she went to work as a teenager to try to help pay the bills.
Part of her reward for doing that was that her mother helped her get into the music business, which she always dreamed of doing since she was a little kid. Her mother would take her to nightclubs and churches—anywhere that Patsy could get a gig, her mother was right there with her. That drive is so fascinating to me.
The part I think is so interesting about her is that even as she got bigger, she never forgot where she came from and how hard it was to get there. She was notorious for helping people out in the industry. She gave Dottie West money just to help her pay the rent, and bought Loretta Lynn clothes.
I recently did a concert honoring Brenda Lee, and I got to talk to her briefly. She said, "You would've loved Patsy." Brenda was 12 years old when she used to go on tour with Patsy, and Patsy's home was kind of a second home to her. Patsy was just that kind of person. She was always writing thank-you notes to her fans.
It's amazing to hear about that side of her. To so many people she's one of those larger-than-life musical icons. It's refreshing to see that more humanized side of her.
And she was larger than life! She was the epitome of what a star was at the time. She always tried to remember the people who helped her get to where she was. I think that we have bad examples now in our social awareness of how stars are supposed to behave, and that's not what she did. It was common for the day, but at her level it was so uncommon. And we haven't even talked about her voice! [laughs]
Let's talk about it! She's got one of the most legendary voices of all time. Why do you think her artistry continues to resonate in the way that it has?
She was a pioneer, and didn't mean to be. She had a couple of near-death experiences. When she was 12 or 13, she had rheumatic fever—the story goes that that is what changed her voice. It was before her voice had developed. After she got out of the hospital, she—in her own words—thought she sounded like Kate Smith. She had this big, booming voice and was as fascinated with it as everyone else was.
What made her so unique in country music specifically was that her voice was so much bigger than country music had ever managed to hold. Patsy had this smooth, almost trained voice; a four-octave range and immense power. That wasn't something that country music had ever heard, especially from a female.
cs