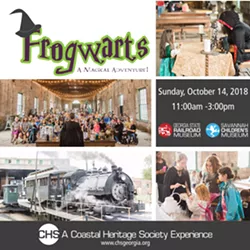 Georgia State Railroad Museum and Savannah Children's Museum will transform into a Harry Potter-themed experience during "Frogwarts" on Sunday, October 14, from 11 am-3 pm.
This year's classes will include Wand Making, Potions, Fortune Telling, Defense Against the Dark Arts: Glow in the Dark Fun!, Care of Magical Creatures with Georgia Reptile Society, Quill Writing, Herbology, Muggle Studies and Quidditch. Attendees can also take a ride on our steam locomotive, the Frogwarts Express.
"With the first book having been published twenty years ago, young parents now have the opportunity to introduce a new generation to the magical world of Harry Potter by attending our 'Frogwarts' event," says Sara Hempen, Education Specialist at Coastal Heritage Society.
"Not only will families be swept away by their imaginations, but children will also walk away from this annual event with new knowledge of academic subjects such as chemistry, astronomy, engineering, art and biology, all disguised as magical classes."
Partners holding workshops include Snapology with Harry Potter LEGO building, Savannah Stage Company with a cast of favorite Harry Potter characters, Mathnasium will provide games of Wizard Chess throughout the day and the Solar System Ambassadors will share Astronomy lessons.
Leopold's Ice Cream will be on-site serving Harry Potter inspired sweet treats.
"Frogwarts" guests in outstanding costumes will be selected to participate in a costume contest to win prizes.
$12 for all participants, ages eighteen months and up. Pre-registration required; click
here
.
Coastal Heritage Society members receive access to early registration, an express check-in line and priority boarding for the Frogwarts Express train ride. "Frogwarts" is sponsored by Port City Logistics, Inc.