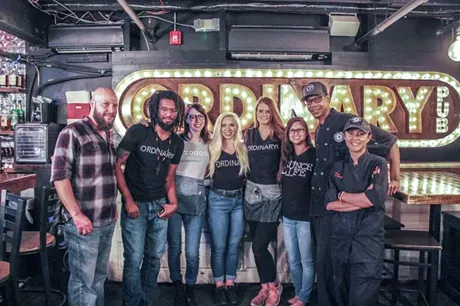 Bottomless mimosas aren't the most important part of a brunch, but they sure don't hurt.
Luckily, Ordinary Pub has some great food to go along with the booze.
"People come down here for the mimosas and then they get blown away by the food," says general manager Daniel Gattone. "It's a great experience. It's a good combination of the right kind of food, a little bit eclectic, a little bit different. We don't do eggs any style, we don't do omelettes, we don't do standard waffles."
"You can get a brunch bowl that has eggs, cheese, and tots," says executive chef Sean Freeman.
"Everything's a little bit different," adds Gattone.
As Freeman says, the popularity of brunch has made it important for Ordinary to stay caught up.
"Mike [Vaudrin, the owner] does well in staying on top of the trends, staying relevant," he says. "You've got to try to be better. Now that brunch is is more popular and it's easier to find brunch, because before, brunch wasn't really a thing. So now that everyone goes to brunch, the competition is real."
Ordinary has two different brunch menus, one for the weekday and one for the weekend. Both menus offering fascinating food combinations like the Avocado, Shrimp and Naan or the Brunch Mussels sauteed in champagne and orange juice.
Importantly, the weekday brunch was added because service industry workers wanted to have brunch on the weekdays.
In fact, Ordinary is loved by Savannah's F&B folks for just that.
"We have a program for service industry in the evenings—it's a special club," says [title] Mickey Hickey.
The culture at Ordinary makes the service a little more special, too.
"I think the culture we have here is a little bit different," says Gattone. "Unlike a lot of restaurants, people want to be here. They've bought into the idea of making the pub great. People show up and want to show people a good time."
Looking forward, Ordinary will open a second location soon in the old Casbah on Broughton Street. -- Rachael Flora
Runner-up: Collins Quarter