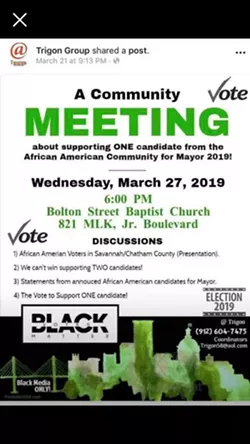 A controversial decision to bar white media from an African American political meeting has garnered negative national media attention for Savannah, and thrown a new twist into what was already going to be a contentious mayoral campaign this year.
The Trigon Group, headed by Rev. Clarence Teddy Williams, organized the event for March 27 at the Bolton Street Baptist Church, with the stated intent that it was about "supporting ONE candidate from the African American community for Mayor 2019."
Currently there are three African American candidates, Alderman Van Johnson, Louis Wilson, and former Georgia Rep. and State Sen. Regina Thomas.
Johnson and Wilson attended the meeting; Thomas said she had Bible study that night at her own church.
The sign on the door said "Black Media ONLY," and at least one white reporter from local media, leading TV station WTOC, was barred from entering.
In a lengthy statement on Facebook he posted Thursday morning, Johnson said: "I accepted this invitation as an opportunity to share my vision for a progressive Savannah, as I have with business, civic, labor, neighborhood, veteran, political, Latino/Hispanic and LGBTQ groups in private and public settings.
"I did not coordinate or schedule this event and did not participate in any of the discussions beyond giving my statement. I was made aware that the organizers restricted this event to "Black Media" only. I chose to give my statement as scheduled and afterwards made myself available to the media gathered outside," he wrote.
"I have expressed my concerns to the organizers of this event as my history of service in this community has ALWAYS been one of inclusion, of partnership and of communication. While this decision of this group is unfortunate, I work toward the day when we trust each other enough to be inclusive in all of our gatherings."
Judging by social media reaction, however, the fallout from the incident is unlikely to disappear anytime soon.
Incumbent Mayor Eddie DeLoach, who is white, is running for re-election. He was the first white mayor of Savannah elected in two decades when he defeated Edna Jackson in 2015 in a contentious race which came down to a runoff.