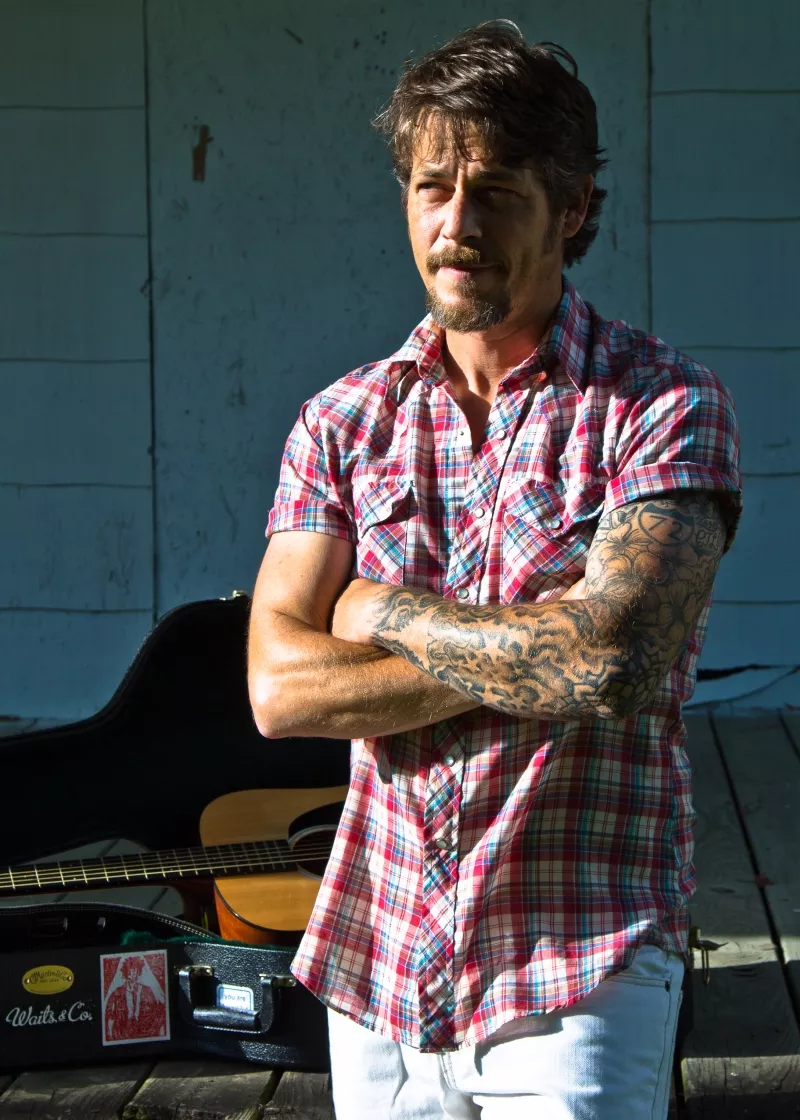 EVEN if you don't know Jon Waits personally, you've likely encountered his work in some form. Maybe you've flipped through an issue of Connect and spotted his vibrant photography, or seen him dashing around behind the scenes at Trinity UMC's Thursday Night Opry series. Maybe he's handed you a steaming cup of Perc coffee over the counter at Foxy Loxy Print Gallery and Café. Or, perhaps you've seen him onstage as Waits & Co., flanked by Markus Kuhlmann and John Pizzichemi.
Waits has crafted a particular brand of what he's coined "original Southern songwriting"—honest, personal tales of struggle and celebration with a certain Georgia lilt to them.
"What it comes down to is this," Waits explains over a cup of Foxy Loxy brew. "I'm a Southern man—dyed-in-the-wool, born and raised here. Yeah, I've seen enough of the rest of the world to not fall into some of the same stereotypes as a lot of people think of Southerners. But, that being said, I embrace the hell out of where I'm from, and I love what we have here. I love being a part of it. We have a bloody past, but I'm from it, and that's part of me: the good, the bad, and the ugly is what I was raised in."
Following in the steps of his best friend, Waits first started strumming when he was about 9 or 10. While living in Atlanta in his 20s, he performed in a variety of bands, trying out the coffeehouse circuit on his own.
A self-described "survivor of self," Waits' songwriting process has grown and changed with him through the years, particularly as he emerged from his struggle with addiction.
"The irony was, when I got sober, the times weren't as dark anymore," he recalls. "So the inspiration—the need to get this stuff out—wasn't quite there as much. So there's been a change in what I do."
You know that whole "art comes from suffering" saying?
"That first year, I couldn't write," Waits says. "I couldn't. Nothing was coming."
He began cobbling together scraps of old writing, pushing himself and practicing until he was able to put pen to paper again. Though he finds value in that kind of discipline—Waits loves the routine of sitting down at the kitchen table with his guitar and a cup of coffee to express his truth through song—he is gracious for the music that seemingly materializes out of nowhere.
"The best ones are the ones that are a like a flash," he explains. "You get the inspiration, you sit down. Fifteen minutes later, it's done. Those are the ones that are spiritual and come from somewhere. Every now and again, the atmosphere just sort of opens up, and you gotta be ready to reach up there and grab it.
"And that was a big problem with the heroin and boozing—I couldn't feel that. I couldn't touch it. It wasn't there for me. When I got those out of the way, those moments started happening more frequently."
Soon, Waits & Co. will record a live EP; Waits hopes to work on a full-length in the fall. While he's interested in possibly taking the show on the road, the Georgia fella says he's perfectly happy enjoying life's small pleasures and taking this whole thing in stride.
"I'm realistic," he says. "I'm in my 40s, I'm a survivor of self, and really just happy to be playing and having people enjoy it. If that means it doesn't go any further than Savannah, that's completely fine."—Anna Chandler
Runner-up: Jason Bible