Vice-President-elect Kamala Harris visited Garden City on Jan. 3 to speak at a rally supporting Georgia's Democratic U.S. Senate candidates Raphael Warnock and Jon Ossoff, drawing hundreds of people to the drive-up event. Amid the sunny winter weather of 2021's first Sunday, Harris addressed the excited Democratic supporters who packed the parking lot of the Garden City Recreation Department. When Harris made her way to the stage, enthusiastic cheers and honking from the audience flooded the lot before she urged the crowd to vote for Warnock and Ossoff in Georgia's Jan. 5 Senate runoff election, which will determine the balance of power in Washington D.C. for the next two years. "We have talked, we have prayed together. We have talked about the fate of our country, the future of our country, the promise of our country," said Harris. "They have talked to me about the state of Georgia. They have said to me 'Kamala, you need to know what's happening in our state. These are the needs of the people. These are the needs of the children. These are the needs of small businesses. These are the needs of working people.' That's who these two men are."
Preceding Harris, Warnock spoke onstage about his humble upbringing in Savannah, where he grew up in public housing. "It's been 150 years since we got a Georgia senator for Savannah, and I think it's about time," said Warnock. Warnock also shared a sentimental anecdote about his family history in Savannah, saying that his mother went from picking tobacco and cotton to picking her son for United States Senator. "These kinds of things are only possible in America," he said. During the rally, Ossoff delivered a speech emphasizing that he would focus on "health, jobs, and justice" if elected.
"I want you to feel in your hearts a sense of optimism and excitement about what we can do for our people," Ossoff told the crowd. The audience was most excited when the candidates promised that if they were elected, they would work to raise the federal minimum wage to $15, as well as increase Pell Grants in Georgia and improve public health, jobs, and justice in the state.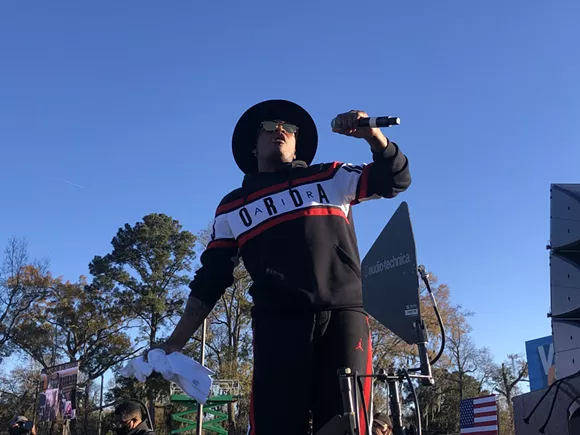 A frequent reminder throughout the rally blared from the speakers: "We take COVID-19 regulations very seriously." The audience was instructed to stay in their cars at all times unless they were going to the restroom, in which case they were required to wear a face mask. Grammy-award winning musician Ne-Yo also appeared at the rally to perform a few songs, including fan-favorite "She Got Her Own" in tribute to the first female Vice President. Atlanta Mayor Keisha Lance Bottoms and Savannah Mayor Van Johnson also spoke during the rally. Other local officials in attendance included Savannah Alderwomen Alicia Blakely and Kesha Gibson-Carter, as well as former Mayor Edna Jackson.